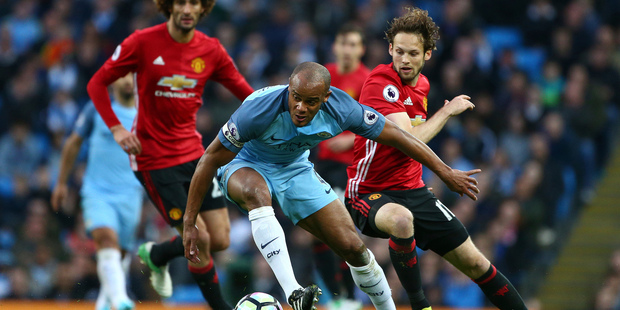 Pablo Zabaleta will receive a hero's sendoff from Manchester City tomorrow but there will be no fond farewell for Yaya Toure, who could yet be offered a new deal by the club.
Zabaleta's departure after nine years was confirmed at the weekend after the favourite decided not to seek a new deal at the end of the campaign. The club will mark his service after the last home game of the season against West Brom with video montages, tributes and a presentation.
Toure enjoys similar status among the fans and would be afforded a matching show of respect should it be his last outing at the Etihad Stadium, but that is not yet certain.
The 34-year-old Ivorian seemed certain to be on his way out when manager Pep Guardiola sidelined him at the start of the campaign but he has returned to a key role and could be asked to stay for an eighth season.
Five other out-of-contract players - Jesus Navas, Gael Clichy, Bacary Sagna, Willy Caballero and Tosin Adarabioyo - are also waiting to find out about their futures, though most are expected to join Zabaleta in leaving as Guardiola reshapes the squad.
The Spaniard holds the 32-year-old, who predates the 2008 takeover alongside Vincent Kompany and Joe Hart, in high esteem.
"Pablo is a real legend," he said. "He helped us with his teammates, with the club, to make a step forward, to try to qualify for the Champions League, to win the Premier League, to be in Europe three or four times in a row when it was never in Europe for 30 years."
Zabaleta said when he first came to Manchester he felt like when he was in Barcelona at Espanyol.
"We were not the main club in the city. We can't say the same thing now. I remember at that time [Sir Alex] Ferguson and the 'noisy neighbours' ... For me, we couldn't let people say something like that about us.
"I thought if they call us the noisy neighbours then let's make more noise in the city, let's prove that we are a club that is looking to achieve important things, maybe one day be the main club in the city."
City captain Kompany added his own heartfelt appraisal of his team-mate's qualities, judging him a true fighter.
"In a big game there's always a few players you know are going to put in a good performance and he was one of them."
- AAP