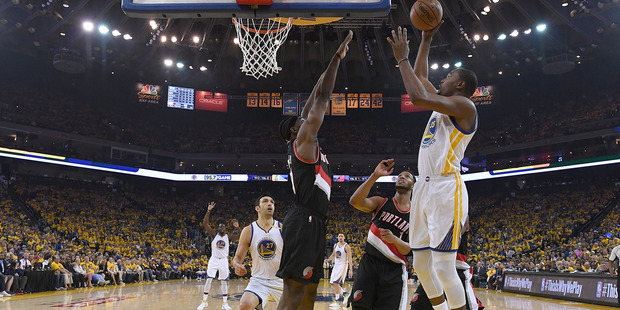 Kevin Durant has led Golden State to a 121-109 win over Portland in the opening game of their NBA playoff series.
Durant had 32 points and 10 rebounds in his Warriors playoff debut, while Stephen Curry scored 29 points, as Golden State withstood sensational performances from Portland duo CJ McCollum and Damian Lillard.
McCollum scored a playoff career-best 41 points and Lillard had 34, but the Warriors made the crucial big plays on both ends down the stretch, with Portland playing without injured centre Jusuf Nurkic.
Draymond Green contributed 19 points, 12 rebounds, nine assists and five blocked shots to help last season's second-place team take the first step in a possible championship run.
Durant shot 12 for 20, showing no issues with a recent left knee injury that sidelined him 19 games, before he returned for the final three regular-season contests with the NBA-best Warriors.
He patted his chest after two straight fourth-quarter baskets and said, "I got this!"
Game two is Thursday at Oracle Arena.
In Washington, the Wizards beat Atlanta 114-107, thanks to a playoff career-high 32 points from John Wall.
He scored 15 points in the third quarter and finished with 14 assists, ahead of game two in Washington on Thursday.