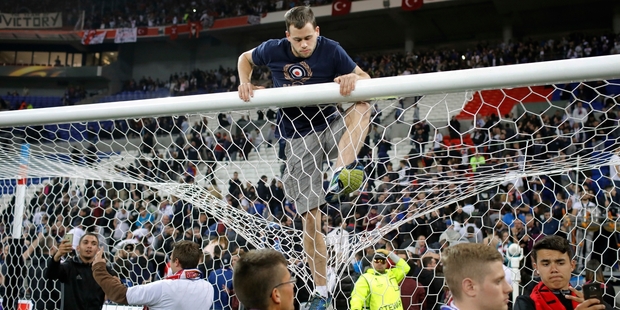 Lyon's Europa League quarter-final meeting with Besiktas was delayed 45 minutes after the throwing of projectiles and firecrackers forced fans on to the Parc OL pitch yesterday.
Both sets of players had emerged to warm up when objects began to rain down from the stands, causing an unexpected postponement of the start of proceedings in France.
It followed fighting among rival French and Turkish fans earlier in the city.
The match was expected to kick off at 8.05pm BST, but Uefa spokesman Pedro Pinto tweeted that there would be a delay due to "crowd disturbances" and the match did not begin until 8.50pm.
With an image of supporters entering the field of play, Lyon posted a tweet reading: "Projectiles and firecrackers thrown from the tops of the stands have forced fans to take refuge on the pitch."
At 8.16pm, after all members of the public had left the playing surface, Lyon tweeted that a revised start time would be announced "in several minutes", later saying a second warm-up was imminent.
Pinto then tweeted: "Authorities at Stade de Lyon confirm @Europa League match between @OL and @Besiktas can take place. Kick off expected soon."
Lyon and Besiktas, the Turkish champions, finally kicked a ball at 8.50pm. Trailing at halftime, Lyon scored twice in the last 10 minutes to win 2-1.
Uefa has increased security at Champions League and Europa League matches this week after Borussia Dortmund's team bus was targeted by a bomb attack on Wednesday. Defender Marc Bartra needed surgery for arm injuries.
Dortmund's game against Monaco in the Champions League quarter-finals was postponed and played on Thursday.
In other Europa League games yesterday, Manchester United coach Jose Mourinho was unhappy his team lapsed into a season-long failing - drawing games they should have won.
United opened the scoring at Anderlecht with a 36th-minute goal but wasted opportunities to double their lead and then conceded an 86th-minute equaliser.
"If I were one of my defenders, I would be very disappointed because they had serious work and the people who had to kill the game didn't," Mourinho said.
United will be favoured to advance at Old Trafford next week after controlling much of the game in Brussels.
Zlatan Ibrahimovic linked in a sweeping move to give United the lead. His pass to the right wing found Antonio Valencia for a cross that was met by Marcus Rashford's volleyed shot. Anderlecht goalkeeper Martinez Rubin dived right to push the ball spinning away toward the byline and, from a tight angle, Henrikh Mkhitaryan hit a rising shot into the net.
Mkhitaryan has scored in four straight away games in the Europa League, which shapes as United's best route back to the Champions League if they win the final on May 24.
Anderlecht made the second leg trickier in the 86th minute. Leander Dendoncker ran clear of two United defenders to power a header from near the penalty spot past goalkeeper Sergio Romero. Ajax beat Schalke 2-0 but could have taken a more decisive lead to Germany next week. Davy Klaassen's goals in the 23rd and 52nd minutes were a poor reward for their dominance at Amsterdam Arena, with Schalke keeper Ralf Faehrmann making 10 saves.
Celta Vigo beat Genk 3-2 in Spain but the Belgian champions, unbeaten at home in Europe this season, may fancy their chances.
- AP