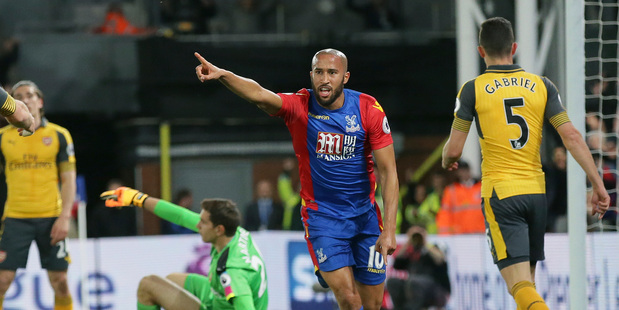 Arsenal produced another dreadful away performance in losing at relegation-threatened Crystal Palace 3-0 in the English Premier League on this morning (NZT), further damaging the team's chances of qualifying for next season's Champions League.
Palace exploited Arsenal's weakness in defense, scoring in the 18th minute through Andros Townsend before midfielders Yohan Cabaye and Luka Milivojevic - from the penalty spot - added more goals in the second half.
Arsenal, which has conceded three goals in each of its last four away games, stayed in sixth place - seven points off the top four.
It was another humiliating result for Arsenal manager Arsene Wenger, who is weighing up whether to sign a contract extension at a club he has coached since 1996, amid heightened unrest from fans.
In the second half at Selhurst Park, Arsenal fans were singing "You're not fit to wear the shirt," and there seemed to be a lack of fight and organization among Wenger's team.
A fifth win in six games for Palace lifted the team six points clear of the relegation zone, boosting Sam Allardyce's bid to maintain his record of never having been relegated from the Premier League.
Mamadou Sakho, a center back on loan from Liverpool, was excellent for Palace, delivering the kind of towering display that was beyond Arsenal's defenders. The visitors also couldn't handle Palace winger Wilfried Zaha or striker Christian Benteke.
Townsend found himself free six meters out to turn in Zaha's cross and put Palace ahead and although Arsenal had more possession, Palace looked dangerous most times it went forward.
Arsenal's defending was shambolic early in the second half. Zaha crossed from the right and Cabaye lifted an angled shot over goalkeeper Emiliano Martinez in the 63rd for 2-0.
Arsenal's misery was completed when Martinez was adjudged to have tripped Townsend, and Milivojevic converted the penalty.Arsenal has won only two of its last eight league games.