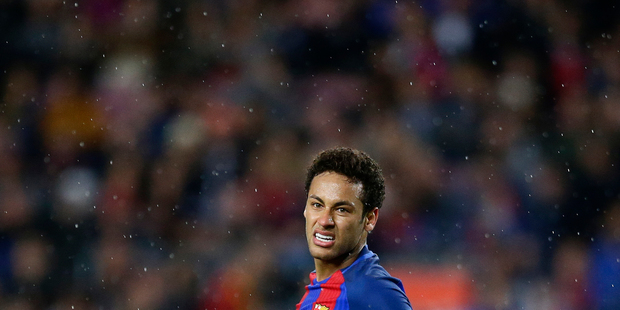 Neymar dealt a self-inflicted blow to Barcelona's Spanish league title defense when he was sent off with 25 minutes left in its 2-0 loss at Malaga on Sunday.
Barcelona failed to take advantage of the opportunity Atletico Madrid gave it to pull level with leader Real Madrid, where Antoine Griezmann's late equalizer grabbed a 1-1 at the Santiago Bernabeu hours earlier.
Barcelona's setback in Malaga meant Real increased its lead to three points despite the disappointing finish to the Spanish capital derby.
Real, which has a game in hand, still faces matches against Barcelona and fourth-place Sevilla over the final two months as it seeks its first Liga title in five years.
"The league is a bit more difficult now. But ... we have to fight for it," Barcelona coach Luis Enrique said.
Nothing went right for Barcelona.
Lionel Messi sent free kicks well over the bar, Andres Iniesta lost an easy ball in midfield, and Neymar got booked for not giving enough space for a free kick while tying up his laces.
Then there was Malaga's opener, when Jeremy Mathieu tried to catch Sandro Ramirez offside. Instead, the former Barcelona forward was left with half the pitch to bear down on goalie Marc-Andre ter Stegen and fire inside his near post in the 32nd.
And just when Barcelona started to click, Neymar got a second booking for charging into Diego Llorente.
Substitute Jonathan Rodriguez added Malaga's second goal in stoppage time with Barcelona searching for an equalizer.
"I had said that Real Madrid doesn't need our help to be champion," said Malaga coach Michel Gonzalez, a former Real player. "But a Malaga fan from Madrid has given them a hand."