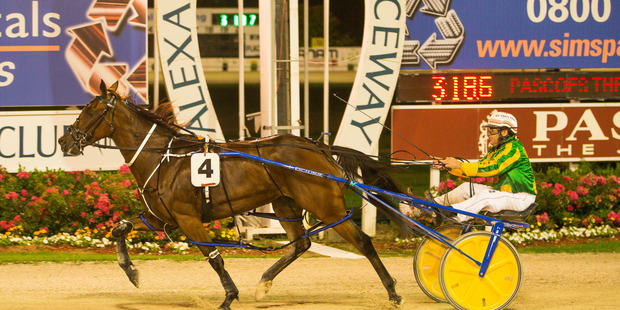 The Orange Agent overcame two days of travel interruptions to cap her incredible comeback in the $100,000 Breeders Stakes at Addington last night.
The northern mare, having only her third start back from a near career-ending injury that cost her 14 months on the track, almost missed last night's group one after fog in Christchurch delayed her flights from Auckland on Wednesday and Thursday.
Her connections were even told their last-chance flight was cancelled on Thursday night before being told to go to the airport and hope, before she was able to be flown into Christchurch early yesterday morning.
That meant she had to pass a veterinary examination to be allowed to start but driver Tony Herlihy soon took luck out of play by working straight to the lead, forcing second favourite Piccadilly Princess to concede to the trail.
She then cruised over the 2600m in a national mare's record time, confirming what a loss her enforced absence from the track has been.
The Orange Agent is now likely to head to an Australian campaign, culminating in the Queen Of Hearts in May.
She wasn't the only open class star on show, as Lazarus was too quick for stablemate Heaven Rocks in the $40,000 Superstars, surprisingly trailing the runner-up before outpointing him in the straight.
Later in the night, Ultimate Machete got revenge over his Northern Derby conqueror Raukapuka Ruler in the Flying Stakes, with the winner leading early and never looking in danger.
Vincent was third after being three wide for the last 700m in a race that sets next Friday's NZ Derby up nicely.