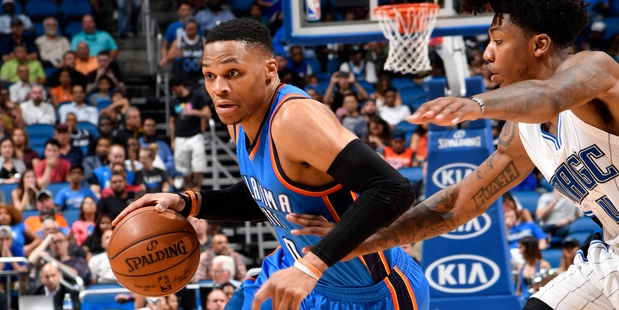 Russell Westbrook had 57 points, 13 rebounds and 11 assists to lead the Oklahoma City Thunder to a 114-106 overtime win over the Orlando Magic.
Westbrook, a leading MVP candidate, led the Thunder from behind by as many as 21 points in the second half, as he recorded his 38th triple-double of the season.
And like the 13-point outburst in the final three minutes for the win against Dallas on Monday night, Westbrook was again the catalyst, as he hit big shots in the fourth quarter, including the tying three-pointer with 7.1 seconds remaining to force the extra period.
Enes Kanter added 17 points and 10 rebounds off the bench for the Thunder, and Victor Oladipo had 13 points, while returning to Amway Center for the first time since being traded by the Magic last June.
Evan Fournier finished with 24 points and Terrence Ross added 23 for the Magic.
The victory kept the Thunder in the hunt for a fourth-place finish in the Western Conference standings. The Magic, meanwhile, came in knowing they had been eliminated from the Eastern Conference playoff race.
But for three quarters of the game, it was the Magic who seemed to have the most to play for.
That changed, however, late in the third quarter, as Oklahoma began mounting a comeback. The Thunder never led in the fourth quarter, but they cut their double-digit deficit to single digits to set up Westbrook's heroics.
The Thunder definitely were the stronger team in over-time, scoring on their first four possessions to take a 112-106 lead in the first two-and-a-half minutes. Westbrook scored five points during that stretch to help Oklahoma City outscore the Magic 10-4.
The crowd in Amway Center began shouting "MVP! MVP! MVP!", after Westbrook spun inside for the basket-and-one with 3m 17s remaining in overtime.
Orlando had just one field goal and Nikola Vucevic missed two of free throws during that span.
Westbrook forced overtime with a three-pointer that tied the game at 102 with 7.1 seconds left for his 50th point on the night. Seven seconds earlier, Vucevic could have put the game away, but he missed the back-end of a free-throw set that left Oklahoma City only needing Westbrook's thee to send it into overtime.
The Magic managed to pull ahead by 21 late in the third quarter, behind strong defense and an offensive surge by Fournier, but it was short-lived, as Westbrook and Thunder began chipping away at the lead and trailed by just 10 at 82-72 going into the fourth quarter.
Westbrook scored 10 points in the quarter and Kanter came off the bench to add 10 points to help the momentum swing in Oklahoma City's favour during the final five minutes of the quarter.