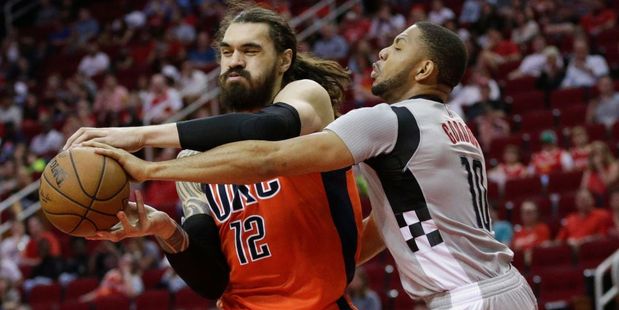 Lou Williams scored 31 points off the bench, James Harden finished with 22 points and 12 assists, and the Houston Rockets never trailed while cruising to a 137-125 victory over the Oklahoma City Thunder.
Russell Westbrook had 39 points, 11 rebounds and 13 assists for his second straight triple-double and his 36th this season, but Harden led the Rockets to a 25-point lead through three quarters in the matchup between top MVP candidates.
Kiwi centre Steven Adams had a medicore outing, scoring 11 points on 3/6 shooting, and 5/6 at the free-throw line. He corraled four rebounds (three offensive), dished two assists and recorded one steal in his 24 minutes of court-time.
It was his third straight game playing less than 25 minutes, with Enes Kanter again getting a decent chunk of minutes off the bench, scoring 23 points in 23 minutes.
Trevor Ariza and Eric Gordon added 24 points apiece for the Rockets, whose lead was trimmed to eight on a 3-pointer by Westbrook with about 90 seconds left. The Rockets scored four quick points after that to secure the victory.
Harden left late in the game after crashing into the court and appearing to injure his left wrist but said in a TV interview he expected to be OK.
The Thunder have dropped to a 41-31 record, putting them in sixth spot in the Western Conference. They are 2.5 games back of the Utah Jazz in fourth spot, and one game ahead of the Memphis Grizzlies in seventh.
- NZ Herald and AP