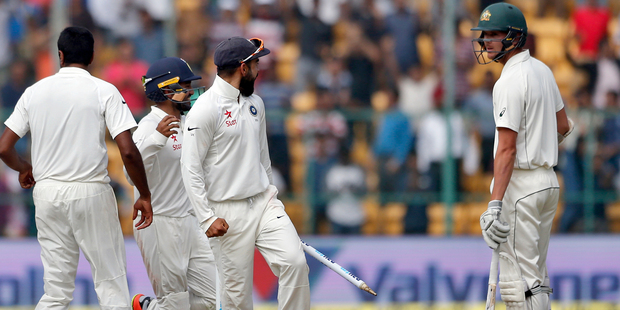 Indian cricket captain Virat Kohli's tumultuous series has ended with him missing the deciding fourth test in Dharamsala.
In what is a catastrophic blow to his team, Kohli was ruled out of the biggest match of his captaincy career, after admitting he's not fit enough to meet his own criteria for playing.
The captain has enforced a policy in the Indian team that no one plays if they're not 100 per cent fit and after declaring that no exceptions would be made for his own position, Kohli went on to say he's not right.
After his press conference, Kohli went back to the nets, but lasted just nine balls, before he walked out shaking his head.
Kohli is still restricted by the shoulder injury he suffered during the third Test. Ajinkya Rahane will lead the hosts.
Left-arm spinner Kuldeep Yadav is set to make his Test debut for India, while Australia are set to name an unchanged XI as they bid for the nation's second Test series win in India since 1969.
In Ranchi, when Kohli was forced off after damaging his shoulder in the field, India appeared completely rudderless, and devoid of any enthusiasm and aggression.
Kohli has averaged a dismal 9 this series with the bat, but that's not the point.
India needs his aggressive captaincy and infectious desire if they're to topple an Australian side already adamant they hold the upper hand.
"Sometimes you have to respect the fact that these things are a part of your career and these things are bound to happen," said Kohli.
"Me playing or not playing shouldn't make so much of a difference to the other 10 guys, because they have a responsibility to fulfil as well. I've not done anything special in the series so far, but still the guys have fought it out and that shows why we are the No 1 team in the world.
"I'm sure those guys are looking at it as a game-changing moment in their lives. I wouldn't say it's the normal feeling. It's obviously different from how you play at 100 per cent fitness.
"Those are things you need to address, when you're going through tests.
Steve Smith admits it will be a more mellow Indian outfit without the man who he has butted heads with ever since Kohli insinuated he and his team were systematic cheats.
"He was probably a bit more chilled out, out on the field. Probably not quite as emotional," said Smith, who is yet to name an XI, but indicated Australia would remain unchanged with a dry wicket beneath some surface grass.
Australian captain Smith is adamant his team hold the momentum and the mental edge.
"I said after last game that we could take a bit away from last week," Smith said of the Ranchi Test. "I thought the way we fought out that draw was magnificent.
"I'm sure they'd be disappointed that they couldn't' get the result they were after. In that regard, I'd rather be in our boat than theirs.
"We haven't got a team yet, I'll name that at the toss. The wicket, although there is some grass out there, still looks pretty dry underneath.
"I think it'll take a reasonable amount of spin as the game goes on. I think first innings runs are going to be crucial, as they always are in test matches here in India.
"That's going to be important for us, to go pretty big in the first innings."