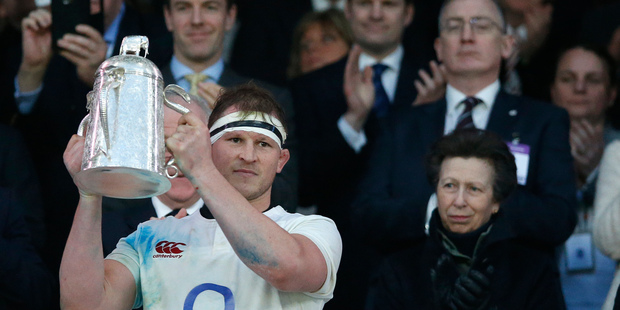 There's just no satisfying England coach Eddie Jones.
His team had just reaffirmed their dominance of Northern Hemisphere rugby by retaining the Six Nations in spectacular style, tying New Zealand's tier-one record of 18 straight wins in the process, when Jones laid down another challenge to his players.
"We want to achieve greatness," Jones said matter-of-factly. "They are in the dressing room now, they are talking about it. They want to do it."
For Jones, the 61-21 thrashing of Scotland at Twickenham yesterday was merely another stepping stone on England's four-year journey to the top of the world game.
The next task is to beat Ireland in Dublin next Sunday (NZT) to secure a second straight Grand Slam, a feat only five other teams have achieved. Then it's about knocking the world champion All Blacks off their perch.
"We aren't beating our chests, saying we are the No 1 team in the world," Jones said. "We want to be the No 1 team in the world and we're not, so we have to get better."
England's record under Jones is now played 17, won 17 (their first win was under Stuart Lancaster) after dismantling sorry Scotland in an unexpected mismatch in the 136th Calcutta Cup.
Jonathan Joseph scored three of the hosts' seven tries as the English recorded their highest points total against their oldest international rival and equalled the biggest margin of victory in this fixture, from 2001.
"We are trying to move away from the tag of plucky losers, but that wasn't even that," Scotland captain John Barclay said. "We were useless."
The Scots were talked up massively in the build-up after impressive wins over Ireland and Wales but they failed to handle the occasion and the increased weight of expectation. They remain without a win at Twickenham since 1983, and couldn't get out of southwest London quick enough after their hopes of landing a first Triple Crown in 27 years and a first championship since 1999 were ruthlessly torn apart. England's players, on the other hand, took a moment to enjoy their success.
"We'll have a couple of quiet drinks tonight," Jones said, "and then we'll get together and on to Ireland."
The game was virtually over by halftime, which England went into leading 30-7.
Scotland's nightmare first half comprised of hooker Fraser Brown getting sin-binned inside two minutes for a tip-tackle on Elliot Daly, strike runner Stuart Hogg going off for a head injury assessment on 18 minutes and never returning, replacement centre Mark Bennett going off on a stretcher, and pitiful wide defence that Joseph skewered with some superb running angles.
Joseph sped through opposite centre Alex Dunbar's weak tackle 40m out with his first touch of the ball and cruised unchallenged over the line. They were 20-0 down before Scottish prop Gordon Reid barrelled over for a try, but it became an exercise in damage limitation.
Joseph had his third try by the 43rd minute and replacement halfback Danny Care scored two in the last eight minutes. Goalkicker Owen Farrell scored 26 points.
"We are one year into a four-year project," Jones said. "We've done reasonably well in the first year but we want to get better."-In Rome, three second-half tries helped France power to a 40-18 bonus-point victory over Italy.
ABs' streak (Aug 15, 2015 to Nov 4, 2016)
1 Australia (world ranking 3) 41-13
2 Argentina (8) 26-16 (RWC)
3 Namibia (20) 58-14 (RWC)
4 Georgia (15) 43-10 (RWC)
5 Tonga (12) 47-9 (RWC)
6 France (7) 62-13 (RWC)
7 South Africa (3) 20-18 (RWC)
8 Australia (2) 34-17 (RWC)
9 Wales (6) 39-21
10 Wales (6) 36-22
11 Wales (6) 46-6
12 Australia (4) 42-8
13 Australia (4) 29-9
14 Argentina (7) 57-22
15 South Africa (4) 41-13
16 Argentina (7) 36-17
17 South Africa (3) 57-15
18 Australia (3) 37-10
England's streak (Oct 15, 2015 to ... )
1 Uruguay (19) 60-3 (RWC)
2 Scotland (9) 15-9
3 Italy (12) 40-9
4 Ireland (8) 21-10
5 Wales (4) 25-21
6 France (8) 31-21
7 Wales (5) 27-13
8 Australia (2) 39-28
9 Australia (2) 23-7
10 Australia (4) 44-40
11 South Africa (4) 37-21
12 Fiji (10) 58-15
13 Argentina (9) 27-14
14 Australia (3) 37-21
15 France (8) 19-16
16 Wales (5) 21-16
17 Italy (14) 36-15
18 Scotland (5) 61-21
- AP