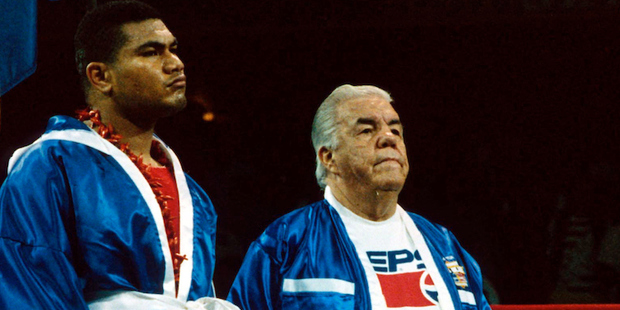 Boxing Hall of Fame trainer and manager Lou Duva, who guided New Zealand's David Tua through his early career, died Wednesday at the age of 94.
The colorful Duva died of natural causes at a hospital in Paterson, where he lived, his son said in a statement released by the family.
A gruff, down-to-earth manager and trainer who was generous with his pupils, Lou Duva had a career that spanned seven decades. Besides Tua, whom he discovered winning a bronze medal at the 1992 Barcelona Olympic, Duva also managed 19 world champions, including heavyweight Evander Holyfield, and welterweights Pernell Whitaker and Meldrick Taylor.
His first titlist was middleweight Joey Giardiello, who won his crown in 1963.
The son of Italian immigrants, Duva and his family built the promotional company Main Events (founded in 1978) into one of boxing's powerhouses. Duva was voted "Manager of the Year" in 1985 by the Boxing Writers Association of America.
In 1987, the World Boxing Association chose Duva as "Trainer of the Year".
Duva was enshrined in the International Boxing Hall of Fame (1998), as well as the New Jersey Boxing Hall of Fame and the National Italian American Sports Hall of Fame.
He is survived by a son Dino, and daughters Donna Duva Brooks, Deanne Boorman and Denise. He was preceded in death by wife Enes and son Dan, whose wife Kathy helped run Main Events.