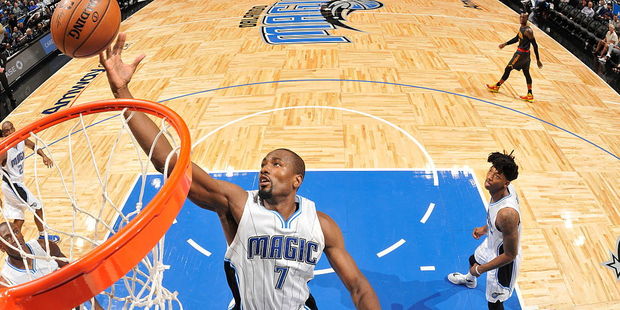 The Eastern Conference playoff picture has taken an interesting twist.
The defending champion Cleveland Cavaliers have lost power forward Kevin Love for six weeks with a knee injury, and the Toronto Raptors have made a move to try and close the gap.
Serge Ibaka is headed north of the border after the Orlando Magic sent him to the Raptors for Terrence Ross and a 2017 first-round pick.
Ibaka was traded to the Magic last off-season after spending his first seven seasons with the Oklahoma City Thunder.
The 27-year-old averaged 15.1 points, 6.8 rebounds and 1.6 blocks in 56 games with Orlando, but with Ibaka set to hit unrestricted free agency, the Magic decided to get a return on their investment instead of letting him walk for nothing.
Ibaka fills a hole for the Raptors, who have been missing a productive power forward to go alongside their star backcourt and solid pieces at centre and small forward.
They could now be more of a threat to the Cavaliers, after Love had an operation on his left knee in New York. The Cavs said he will be sidelined approximately six weeks, which would have him returning by April 1. The playoffs start later that month.
The 28-year-old had complained of soreness and had swelling in his knee following Saturday's win over Denver. Love is averaging 20 points and 11.1 rebounds for the defending NBA champions, who are in Minnesota to play their second-to-last game before the All-Star break.
Love, who recently missed some games with back spasms, has been having his best season with Cleveland. Following two seasons of drama and trade rumors, he has blended in with stars LeBron James and Kyrie Irving.
Love's absence will put further stress on Cleveland's depth and could force general manager David Griffin to make a major move before the Feb. 23 trading deadline.