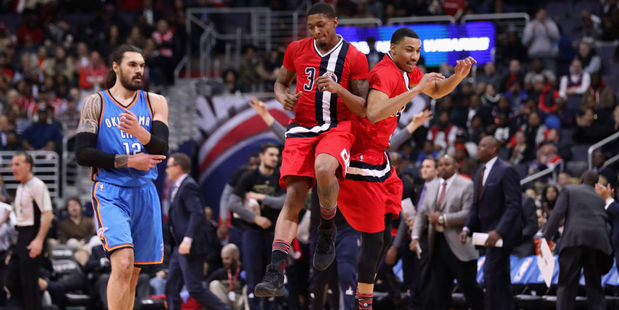 Russell Westbrook sat down for good midway through the third quarter while Oklahoma City was in the midst of missing 24 consecutive shots - yes, 24! - to trail Washington by 34 points - yes, 34! - as Bradley Beal and John Wall carried the Wizards to a stunningly lopsided 120-98 victory over the Thunder this afternoon.
Westbrook entered the game leading the NBA in scoring average at 31.2 and third in assists at 10.2 per game, along with a total of 26 triple-doubles, but he finished with only 17 points - equaling his second-lowest total of the season - on 5-for-19 shooting. He had four assists and four rebounds.
Kiwi centre Steven Adams had nine points on 2/7 shooting, but grabbed 11 rebounds in 19 minutes, including seven offensive rebounds as the Thunder went on their woeful shooting streak.
Westbrook missed nine field-goal attempts in a row during that eye-opening, team-wide drought when the Thunder were being outscored 32-5 from late in the second quarter to late in the third.
As a result of the blowout, no Thunder starter played more than 25 minutes as the bench took over for the majority of the second half.
Beal had 22 points on just eight shots for the Wizards, Wall had 15 points and 14 assists, and Markieff Morris and Otto Porter Jr also impressed for the in-form Wizards.
The Thunder hold a 31-25 record and are back in action against the New York Knicks on Thursday.
- NZ Herald and AP