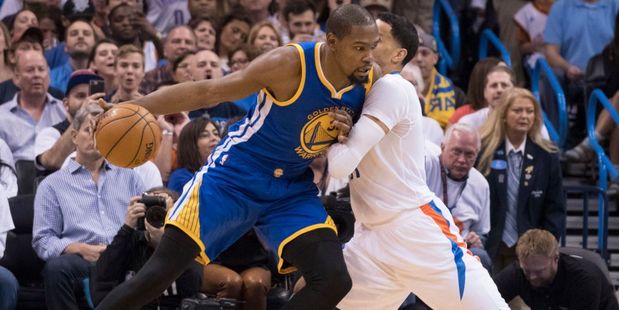 Kevin Durant scored 34 points in his return to Oklahoma City, and the Golden State Warriors beat the Thunder 130-114 in a chippy game this afternoon.
It was Durant's first game back since he left the Thunder after eight seasons in Oklahoma City to join the rival Warriors as a free agent last summer. The crowd booed him loudly during pregame warmups, starter introductions and whenever he touched the ball.
Emotions ran high throughout the game. At one point in the third quarter, Durant and Oklahoma City's Russell Westbrook yelled at each other as they walked toward their benches during a timeout. Later in the third quarter, Oklahoma City's Andre Roberson fouled Durant hard, and the two got in each other's faces and were called for double technicals.
Westbrook finished with 47 points, 11 rebounds and eight assists, but had 11 turnovers.
Kiwi centre Steven Adams had 13 points on a nice 6/9 shooting, but could only grab three rebounds in 35 minutes of action.
Steph Curry put up 26 points, eight rebounds and nine assists for the Warriors, while Klay Thompson added an efficient 26 points.
The Warriors continuing to hold the NBA's best record after moving to 46-8 on the season, while the Thunder drop to 31-24 to remain in seventh.
- NZ Herald and AP