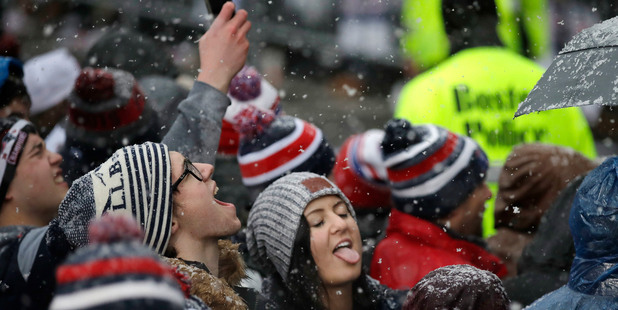 The Super Bowl-winning New England Patriots are getting their moment in the snow.
World War II-era amphibious vehicles known as duck boats have carried MVP quarterback Tom Brady, head coach Bill Belichick and the rest of the team through downtown Boston.
Tens of thousands of jubilant fans braved snow squalls and chilly winds to celebrate the Patriots' fifth Super Bowl title. Many are shouting: "Brady! Brady!" and "TB12!"
Some are holding "Roger That" signs. That's a reference to NFL Commissioner Roger Goodell, who handed Brady a four-game suspension at the start of the 2016 season for his role in the "Deflategate" scandal.
Security was tight for the parade. The route included the Boston Marathon finish line where three spectators were killed and 260 others wounded in bombing attacks in April 2013.
- AP