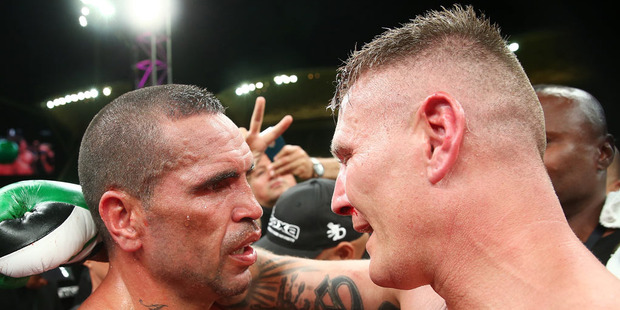 Danny Green finished with bragging rights over Anthony Mundine following the pair's brutal fight on Friday night, beating him via majority decision.
His victory will have gone a long way towards securing revenge for a Mundine win in the pair's only previous fight, in Sydney back in 2006. Green and Mundine are responsible for one of Australian boxing's greatest rivalries, and it's a rivalry that has had its final chapter written - at least when it comes to the action inside the ring.
"Suck on that, motherf***er," Green said after the fight. "I'm an old man but I gave it my best.
"I want to pay special tribute, I want everyone here to raise their hands and clap - I don't care what you think, but for putting on a show for all you guys and for being one of the best athletes in the country - a hand clap for Anthony Mundine now please.
"I'm feeling 53, but tomorrow morning I'll be 63. I just want to pay tribute to all those who came to support me and those who have shown me so much support.
"I f***ing just love all of you.
"It's been an amazing ride. We've had ups and downs."
While it eventually went the full 10 rounds, the fight nearly ended within 30 seconds when Mundine landed a questionable punch that rocked Green just as referee Frank Garza called a stoppage.
Green was noticeably wobbly on his feet and his camp called the ringside doctor to check on his health. The doctor wanted to stop the fight, but Green demanded he be allowed to continue.
Mundine was deducted a point for the foul and replays showed Mundine clearly hit Green while the West Australian was watching the referee, prompting a wave of angry reaction from fight fans.
As if we can't hate Mundine enough already. What an absolute dog #MundineGreen2

— Matty Holdsworth (@matty_capnews) February 3, 2017
Total cheapshot from Mundine. Green never saw it coming. Came during a grapple.

— Bad Left Hook (@badlefthook) February 3, 2017
Green got his own back in the seventh round. He hit out in a clinch then clocked Mundine with an elbow that also saw a point taken from his score. When asked afterwards if the fight was especially dirty, Green said it was just the nature of boxing.
"Hey, it's a fight, they're all dirty. That's the game," he said.
Mundine dominated the early stages of the fight, slipping blows before getting his jab going in the fourth. Green on the other hand struggled to land any meaningful combinations.
The tables turned as Green dominated the fifth, his aggressive approach continuing until he landed that illegal elbow in the seventh.
As both fighters tired, Green was the more aggressive while Mundine looked content to wait it out, seemingly confident he'd already sown up the fight. This led to a couple of careless errors, walking into some heavy Green shots.
When the fight ended, both men celebrated as if they were the victors, though it was Green who would be left cheering loudest.
However, it wasn't a clear-cut win for Green by any means. Former world champion turned commentator Barry Michael said he had Mundine "winning quite comfortably to be honest" at the end of the 10th round.
"Green fought back valiantly but sitting here he wasn't landing clean shots. He was throwing punches that were hitting the shoulders, whereas Mundine was continually landing with the jab.
"I don't see that the decision was correct, I'm sorry."
Fellow caller and journalist Paul Kent was of the same view, saying Mundine did enough damage throughout to earn a win.
"Anthony Mundine won that fight. Let's be clear about that," Kent said. "He punched cleaner.
"Danny rarely landed a clean punch the whole fight. He'd throw a right hand and miss and then he would grab."
This is what a disgrace looks like, 98-90 is just, wow! I have never seen a card so all over the place like this #MundineGreen2 #ozboxing pic.twitter.com/9h30aykabi

— Adam Auld (@Adam_Auld) February 3, 2017
Ring announcer Bruce Buffer took exception to the judge who scored the fight 98-90 in Green's favour, saying he was way off.
"Without a doubt it was a close fight and maybe could've gone either way," he said. "I don't know how other people scored it. But the one score of 98-90 ... I don't know what he was looking at.
"It wasn't a pretty fight, but it was a real fight."