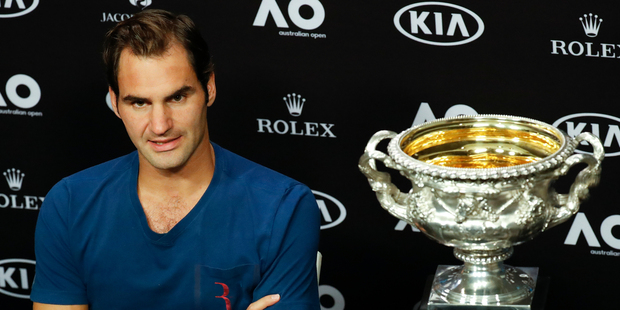 How the world reacted to Roger Federer's 18th grand slam title.
"This one stands alone, this is in its own category" - Roger Federer after claiming his 18th grand slam after a six-month hiatus.
pic.twitter.com/Ap8aZGhBNf

— Roger Federer (@rogerfederer) January 29, 2017
"It's just amazing the way that he's playing after such a long time without being on the tour ... congratulations" - beaten finalist Rafael Nadal.
"Well done, congrats, I feel very happy for you." #Nadal to #Federer.

@RafaelNadal thank you for a terrific @AusOpen 2017 pic.twitter.com/NOVECgkVSk

— #AusOpen (@AustralianOpen) January 29, 2017
As it happened: Roger Federer v Rafael Nadal, Australian Open final
"Roger Federer has solidified himself as the greatest of all time" - seven-time slam winner John McEnroe.
6 months out and straight to win @AustralianOpen... we all aware what a insane feat that is??at 35..#justchecking huge congrats to Federer

— jamie delgado (@DelgadoJamie) January 29, 2017
Everyone stop right now .. take 6 months off. Come back. Win ..... can't believe what I watched. Congrats to my friend @rogerfederer

— andyroddick (@andyroddick) January 29, 2017
And to @RafaelNadal ... one of the classiest champions I've ever known. Tennis is lucky for having you in it ... GRANDE

— andyroddick (@andyroddick) January 29, 2017
What a great and amazing match to wake up for. Thank you Roger, thank you Rafa. @AustralianOpen

— Milos Raonic (@milosraonic) January 29, 2017
Congratulations @RogerFederer on Grand Slam win No. 18! As a huge fan of tennis and you, don't stop there. pic.twitter.com/PVDuEzJnI6

— Jack Nicklaus (@jacknicklaus) January 29, 2017
Federer showing that us oldies are becoming the norm in sport rather that the exception! #4moreyears

— Nick Willis (@nickwillis) January 29, 2017
Roger Federer XVIII


Greatest of all time!

— Steve Smith (@stevesmith49) January 29, 2017
Take 6 months off and come back and win a slam...... #GOAT

— deniskudla (@deniskudla) January 29, 2017