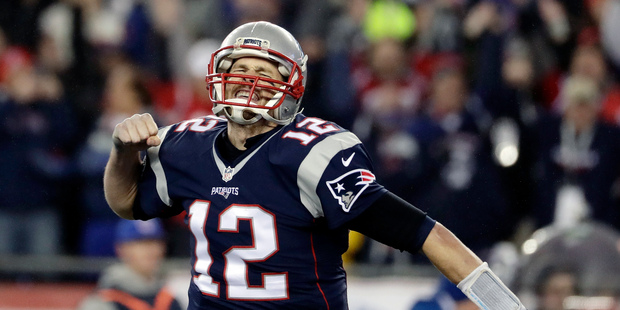 The New England Patriots have beaten the Pittsburgh Steelers 36-17 in the American Football Conference Championship on Sunday (Monday AEDT) to book their place in the Super Bowl.
The Patriots will face the NFC champion Atlanta Falcons, who beat the Green Bay Packers earlier in the day, in the NFL's showpiece on February 5 in Houston.
New England are early three-point favourites heading to face Atlanta in two weeks in Houston, seeking their fifth NFL title with Tom Brady at quarterback.
"We won a lot of different ways under a lot of different circumstances," Brady said.
"Mental toughness is what it is all about and this team has got it. We'll see if we can write the perfect ending."
Falcons quarterback Matt Ryan threw for 392 yards and had four touchdown passes in Atlanta, two of which were caught by star receiver Julio Jones who had nine catches for 180 yards. For good measure, Ryan also ran for a touchdown.
"We played great," Ryan said.
"We did exactly what we've been doing all year and it feels really good."
The Packers, riding an eight-game winning streak and coming off a thrilling upset of the top-seeded Dallas Cowboys , got a taste of what they'd be in for on Atlanta's very first possession.
Driving 80 yards in 13 plays, the Falcons converted three third downs, the last when Ryan scrambled away from pressure and flipped a shovel pass to Mohamed Sanu for a two-yard score.
If Ryan and the league's highest-scoring offence keep playing like this, the AFC winner will sure have its hands full in the Lone Star State.
The Falcons led 24-0 at halftime against the Packers, perhaps the league's hottest team, and put the game away on their second offensive snap of the second half, a play that showed every one of Jones' remarkable skills.
Jones blazed down the middle of the field, shook off LaDarius Gunter's attempt to grab him on a cut toward the sideline, hauled in the pass from Ryan, broke Gunter's diving attempt at tackle, and knocked away Damarious Randall's with a brutal stiff-arm on the way to a 73-yard touchdown.
Not bad, considering he took it easy much of the week because of his sore left foot.
"I didn't practice that much throughout the week but today I came out and gave it all I had," Jones said.