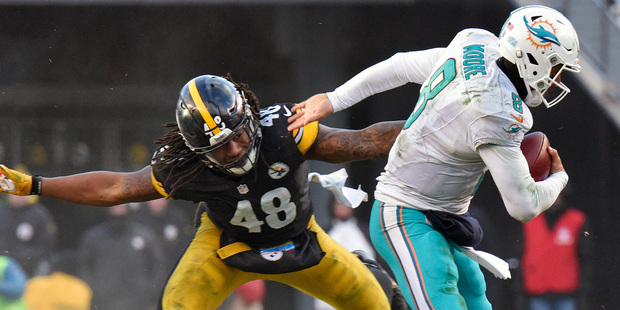 Quite simply, Matt Moore got absolutely poleaxed.
Pittsburgh Steelers linebacker Alvin "Bud" Dupree monstered the Miami Dolphins quarterback in the two teams' clash this morning (NZ time).
Brutalised him. Sent him to another planet.
Whatever way you want to put it, seeing Moore get knocked to the ground was enough to make anyone recoil at least a bit, even from the safety of an office chair in front of a computer.
Moore was angling to his right, but at the exact time he threw a pass, Dupree charged into him to create a scene resembling a monster truck crashing into a Volkswagen Beetle.
There was only one winner from the hit.
RIP Matt Moore pic.twitter.com/hmHNnM4rww

— Football Is Life (@FootbaIl_Tweets) January 8, 2017
The Steeler burrowed his head and rocked Moore in the helmet. It was an illegal collision and officials flagged Dupree for a 15-yard penalty.
His victim went straight down and took a while to get back up.
TJ Yates came on the field to replace the 32-year-old, but only for one play. Remarkably, Miami ruled out any serious concussion for its playmaker and Moore returned to finish the game.
The internet wasn't kind to Moore. No concern, no sympathy, no well wishes, just gags.
To be fair, some of the quips the Twittersphere came up with were pretty funny, even if they did come at the expense of someone's wellbeing.
But given Moore was cleared of any serious problems, we think you're allowed to have a bit of a chuckle at these.
Dolphins concussion protocol:

"What's in a vodka Red Bull, kid?"

Matt Moore: "Vodka & Red Bull."

Get back in there, kid.

— Busted Coverage (@bustedcoverage) January 8, 2017
Concussion spotter: "Matt Moore, is a dolphin a fish or a mammal?"

MM: "I am Batman."

Spotter: "He's clear."

— Jeff Howe (@jeffphowe) January 8, 2017
BREAKING: This is the Independent Neurologist who cleared Matt Moore to return. pic.twitter.com/UkuibC3J5G

— Fake SportsCenter (@FakeSportsCentr) January 8, 2017
A different angle of the Bud Dupree hit on Matt Moore https://t.co/azi0sI0x9p

— Steve Braband (@stevebraband) January 8, 2017
"I'm good to play coach put me back in" - Matt Moore pic.twitter.com/jsoOXwC0Q1

— Rob Perez (@World_Wide_Wob) January 8, 2017
When you see the man in public that's been texting your girl https://t.co/fHjezbl1Bn

— Rev. Eric Dunn (@ericvdunn) January 8, 2017
Moore's almost immediate return didn't help his side though, as the Steelers crushed the Dolphins in the first round of the NFL playoffs, putting them two wins away from a Super Bowl appearance.
The Steelers took the early advantage and went into half-time up 20-6, with Moore suffering further ignominy after his initial hammering.
James Harrison sacked Moore, with the Dolphins deep in Pittsburgh territory late in the first half, to keep the Steelers comfortably in front.
The 38-year-old Harrison raced in on an unblocked Moore and jarred the ball loose.
Pittsburgh defensive end Stephon Tuitt recovered at Steelers 13. The turnover prevented the Dolphins from getting back into a game in which they were dominated for much of the opening 30 minutes.
Moore threw an interception and fumbled twice, but managed to set a franchise record for consecutive playoff completions with 14.
But that wasn't enough for the Dolphins, as the Steelers romped to victory.