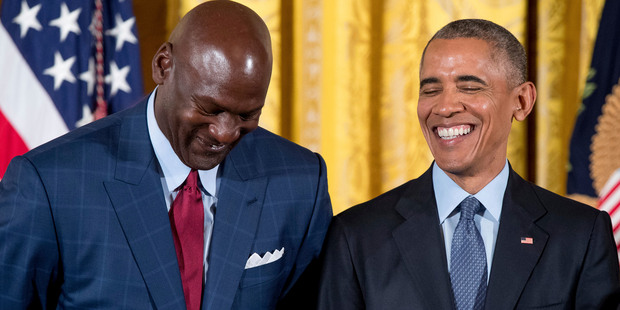 Michael Jordan won six NBA titles, is a five-time league MVP as well as a Hall of Famer and won two Olympic gold medals. But that didn't matter to US president Barack Obama.
During a ceremony on Wednesday (AEST), Obama will award the Presidential Medal of Freedom - the nation's highest civilian honour - to 21 groundbreaking actors, musicians, athletes and others during a ceremony at the White House.
Among those getting the prestigious award are actors Tom Hanks, Robert De Niro and Robert Redford.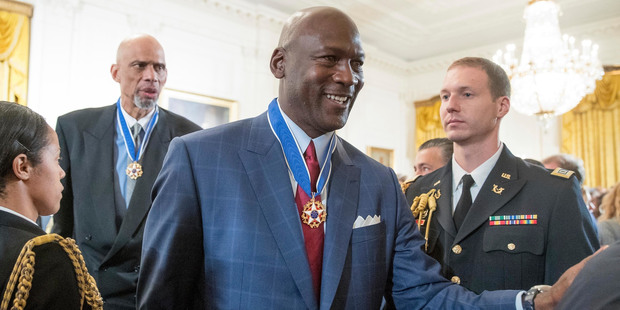 Jordan and former Laker Kareem Abdul-Jabbar are also among the honorees.
And while Obama paid homage to plenty for their achievements and contribution to society, he showed he was a fan of more than just Jordan's work on the hardwood.
Glossing over the basketball accolades listed above, the 51-year-old instead focused on another aspect of MJ's career - his role in front of the camera.
"This is a particularly impressive class," Obama said. "We've got innovators and artists, public servants, rabble rousers, athletes, renowned character actors, like the guy from Space Jam."
Yep, the greatest basketballer who's ever lived was reduced to "that guy from Space Jam" by the most powerful man on the planet.
"We've got...athletes, renowned character actors. Like the guy from Space Jam." -@POTUS welcomes MJ to the @WhiteHouse https://t.co/BXh2R6KARz

— NBA TV (@NBATV) November 22, 2016
Jordan famously played himself in the 1996 classic, leading Bugs Bunny and co. in the Tune Squad to victory over the Monstars.
ESPN recently profiled that game in a spoof episode of its acclaimed documentary series 30 for 30, which you can check out here.
These days, "His Airness" gets as much airtime for the now-infamous "Crying Jordan" memes that do the rounds on social media whenever a sporting side suffers heartache.
The Chicago Bulls legend famously teared up during his Hall of Fame acceptance speech in 2009, and the internet still has a field day with it seven years on.
But Obama, in trademark cheeky fashion, wanted everyone to know there was more to him than that.
Pres. Obama honors a tearful Michael Jordan: "MJ is more than just a logo. He's more than just an internet meme" pic.twitter.com/ayk3qxmBA2

— CBS News (@CBSNews) November 22, 2016
Bruce Springsteen and Diana Ross will be recognised for their music. Other honorees include philanthropists Bill and Melinda Gates, comedian Ellen DeGeneres and broadcaster Vin Scully.
Obama says the people receiving the medal helped push America forward and inspired millions around the world.
The award recognises especially meritorious contributions to the national interests of the United States, to its culture, or to other significant endeavours.
Obama's eight-year reign as president will come to an end next year, when he's succeeded in the White House by Donald Trump, who beat Hillary Clinton in the recent election.