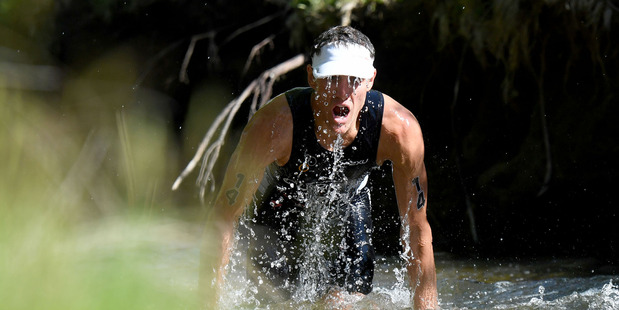 New Zealand enjoyed a successful weekend at the ITU World Cross Tri Champs in Australia, bringing home numerous elite and age group medals from Lake Crackenback in New South Wales Snowy Mountains.

Highlighting that success was Braden Currie's bronze in the elite men's race, while the New Zealand teams picked up silver and a fourth place finish in the inaugural mixed team relay concept that had elites and age groupers sharing the course together.

Sam Osborne, Lizzie Orchard and husband and wife team Sarah and Matt Backler raced to the silver medal, while Olly Shaw, Hayden Wilde, and Kathryn and Elizabeth Bunkenburg backed up from their individual races to finish agonizingly just one spot off the podium in a great showing.

Sam Osborne made sure the black racing suit was prominent in the men's race, racing near the front with Currie all day and coming home in 7th place, with Rueben Ruzafa (ESP) winning his third Cross Tri title in dominant fashion, clearing out on the bike to finish over three minutes clear of Josiah Middaugh (USA), with Currie a further 30 seconds back.

In the women's race Flora Duffy (BER) continued on from her stellar ITU racing season, taking the gold medal in dominant fashion, with New Zealand's Lizzie Orchard racing strongly for 7th place.

Other highlights for the New Zealand team included a podium sweep by our young men, with Hayden Wilde, Lewis Ryan and Christian Davey dominating the 18-19 year age group.

Elizabeth and Kathryn Bunkenburg won silver and bronze in the women's 20-24 age group while Sam Durant won the men's 20-24 age group gold medal.

Matt Backler won the men's 35-39 gold, taking out the title by almost six minutes, with Matt Merrick winning bronze.
Tanya Sharp brought home silver in the women's 40-44 race while Shane Vincent made it a double victory in that age group as he took out the men's race.

Pogo McAuley won bronze in the women's 45-49, Wayne Leighton earned a bronze medal in the men's 55-59, Don Weston won silver in the men's 60-64, Lynne Pattle and Sharon Prutton went first and second in the women's 65-69 category, Alan Pattle won silver in the men's 65-69, Ray Lichtwark won gold (by over 18 minutes) in the men's 70-74, and John Gordon took out the men's 75-79 age group.

Elite Men
1. Ruben Ruzafa (ESP) 2:34:25
2. Josiah Middaugh (USA) 2:37:43
3. Braden Currie (NZL) 2:38:14
4. Brice Daubord (FRA) 2:40:12
5. Ben Allen (AUS) 2:40:49
6. Rom Akerson (CRC) 2:43:05
7. Sam Osborne (NZL) 2:44:40
8. Oliver Shaw (NZL) 2:44:47
9. Branden Rakita (USA) 2:47:45
10. Brian Smith (USA) 2:47:53
Elite Women
1. Flora Duffy (BER) 2:54:11
2. Barabara Riveros (CHI) 2:58:05
3. Suzanne Snyder (USA) 3:05:45
4. Charlotte McShane (AUS) 3:08:13
5. Myriam Guillot-Boisset (FRA) 3:10:39
6. Elizabeth Orchard (NZL) 3:14:41
7. Jacquiline Slack (GBR) 3:14:14
8. Catherine Sterling (USA) 3:15:36
9. Jessica Simpson (AUS) 3:17:25
10. Renata Bucher (SUI) 3:23:26