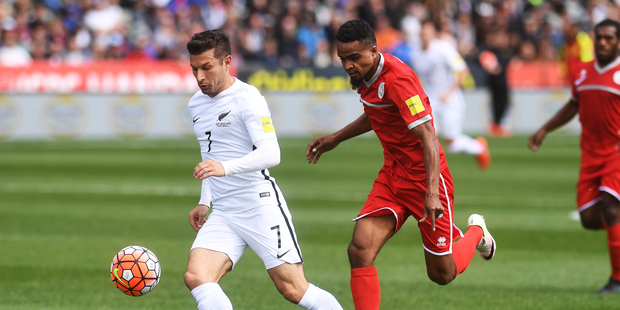 New Caledonia will look to make history at Stade Yoshida in Koné tonight against the All Whites in the second leg of the OFC Stage Three Qualifier for the 2018 FIFA World Cup in Russia.

Les Cagous, who went down 2-0 in the opening leg in Auckland on Saturday, are playing in the north for the first time and are looking for their first home win over New Zealand since 1972.

Coach Thierry Sardo, who attended a ceremony on the day before the game at the he administrative seat of New Caledonia's North Province, said his team will not lack motivation.

"I hope that bringing the match to the North will add a lot of motivation for the players and inspire the supporters," he said at the press conference through a translator.

Meanwhile, Hudson said his team were saddened by the news of the earthquakes back home in the Wellington and Kaikoura regions and said that would inspire the team even more in an important match.

"We got the news about the earthquake and it was horrific," he said. "The first thing we did was make sure players who had family and homes down there were all okay. We just want to send all our best wishes to the people who have been affected and everyone down in that region and hopefully we can do our bit - a very, very small part - to make the country proud."

Sardo said his team is full of belief after challenging the All Whites in recent time, most notably the OFC Nations Cup semi-final where New Zealand were not at their best but won 1-0 in Port Moresby.

"In Papua New Guinea, for the semi-final of the Nations Cup, it was much harder for the New Zealand players and we enjoyed more possession," Sardo said.
"I think the conditions here could mean the same for us tomorrow and that could lead to more opportunities. It will come down to finishing those chances. One goal is all we need."

The All Whites, who were the dominant side in Auckland, have come a long way since that meeting in Papua New Guinea and want to show that with an improved performance.

All Whites defenders Michael Boxall and Kip Colvey come back into consideration after serving a suspension from picking up two yellow cards in the OFC Nations Cup in June. Hudson said with the short turnaround both are likely to return to the starting line-up.

"I think coming into this game we always planned to use those players for the second game. On a tour like this you always want to try and get fresh legs in where you can so we will certainly make one or two changes so we're fresh and have a team tomorrow that's not as run down as after the last game."

Both Hudson and Sardo have fully fit squads to choose from. The conditions in Koné are overcast and humid. Rain was forecast for later in the day but heavy rain has already hit the area this morning. The pitch at Stade Yoshida is in good condition and up to 2000 spectators are expected for the game.

Hudson will be a happy man if his side can secure back to back wins to open the OFC Stage Three Qualifiers.

"We know that we are going to face a hostile crowd and that the conditions are going to be hot and humid. It is going to be a challenge but again we want to deliver a performance that we can be proud of and winning the game is most important."

New Caledonia vs. New Zealand Fact Box
Where: Stade Yoshida, Koné, New Caledonia
When: Tuesday 15 November,
Kick-off: 5pm (7pm NZ time - Live on SKY Sport)
What: OFC Stage Three Qualifier for the 2018 FIFA World Cup in Russia