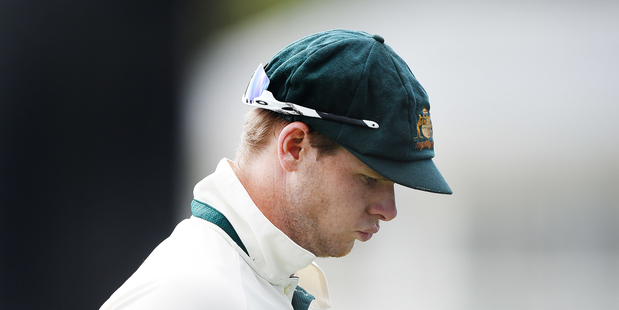 Rain prevented any play on the second day of the second cricket test between Australia and South Africa on Sunday after an extraordinary opening day in which 15 wickets fell.
South Africa won the toss on Saturday, bowled Australia out for 85 and then reached 171-5 before stumps to take an 86-run lead on day one
Organisers cancelled play at Bellerive on today when heavy rain started in the afternoon.
Temba Bavuma remains unbeaten on 38 and Quinton de Kock is 28.
The South Africans won the opening test in Perth by 177 runs and can secure the three-test series with another victory in Hobart.
With three days of scheduled play remaining, there's still the chance of a result in the second test.
After the opening day, when Australia captain Steve Smith scored more than half the total with an unbeaten 48, coach Darren Lehmann said he was confident his team could take the remaining five South African first-innings wickets and set up a proper contest.
"I'm really confident they will play better than they did in the first innings," he said.
South Africa has only beaten Australia twice in test series since being re-admitted to international cricket in the 1990s. Both victories have been in Australia.
The last was in 2012-13, when South Africa clinched the series 1-0 with a victory in the third test in Perth after Australia had the better of the first two tests but was unable to force a victory.
Australia was ranked No. 1 in test cricket until being swept 3-0 in Sri Lanka over the southern winter. The loss in Perth was its fourth straight.
To make matters worse, Australia hadn't lost a series-opening test on home soil since 1988 until last week, and its form deteriorated badly in Hobart when it was dismissed for its lowest total in a home test since 1984.