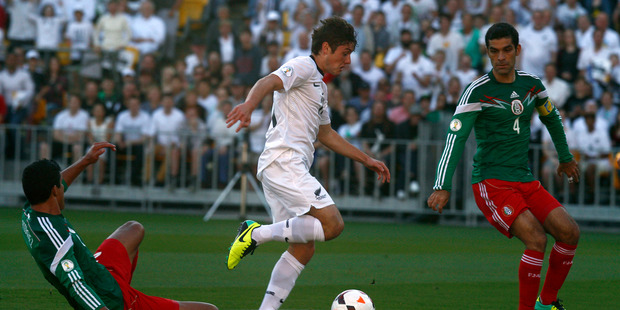 All Whites midfielder Marco Rojas is looking to continue his great club form onto the international stage.

The 25-year-old, who returned to the A-League this year with Melbourne Victory, has been in startling form across the Ditch and said he is enjoying being back in a familiar environment.

Rojas said it is also nice to be back home as the team prepares in Auckland for their first home game in some time. The All Whites, who had the full squad together for the first time this week at training this morning at QBE Stadium in Albany, continue their Road to Russia on Saturday when they meet New Caledonia in the OFC Stage Three Qualifiers for the 2018 FIFA World Cup in Russia.

"Through the confidence I've gained through playing three or four good games, I should be able to roll that into this camp," Rojas said. "I'm sure I'll be able to help the team."

Rojas certainly helped the team on the recent tour of the USA where they went down 2-1 to Mexico in Nashville and drew with USA in Washington D.C.

He scored his second international against Mexico, and could have had another in an impressive performance where he was one of the leading playmakers in the midfield.

All Whites coach Anthony Hudson is pleased to see Rojas playing so well and scoring for Melbourne Victory. He said he performs a vital role in the team's attacking options.

"He has something different to what we have in the team in terms of creativity," said Hudson. "He has real attacking flair, he wants to attack and create. And he's just got that character where he wants to enjoy his football and that's infectious. It's great to see Marco with a smile on his face and enjoying his football.
That's the most important thing right now."

Rojas, who has played 28 internationals for New Zealand since making his debut in 2011, cannot wait to run out in front of his own fans for the first time in a long time.

"It's always nice to come home. I haven't played here in a long time so it's a good feeling to be back."

The softly-spoken Rojas said he is enjoying his football again after moving back to a city that he loves.

"Obviously Melbourne is familiar, the people familiar and it's a great city and great club," he said. "It's more the situation where I was in Europe. The reason I came back was because felt it wasn't a good place for me to be. I was training with second team and there weren't many options I felt were good, that made the decision easier to come back. I'm really enjoying football again."

All Whites v New Caledonia Fact Box
When: Saturday November 12, 2016, kick off 3pm
Where: QBE Stadium
What: OFC Stage Three Qualifiers for the 2018 FIFA World Cup in Russia