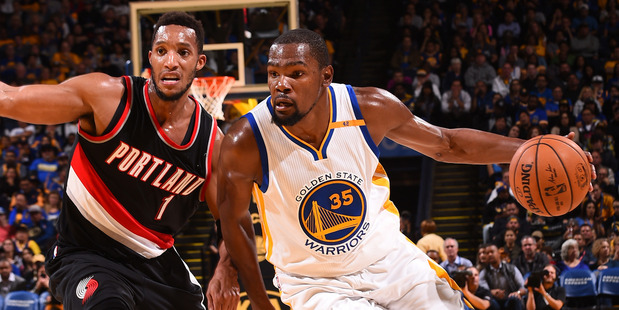 Prized Golden State acquisition Kevin Durant should not try to become the team leader at his new home, says Hall of Famer Gary Payton.

Instead, Payton suggests Durant take a back seat to his incumbent teammates and be a quiet if effective role player for the 2015 NBA champions.

Payton, one of the all-time alpha males of the NBA who famously trash-talked Michael Jordan, believes in the perhaps old-fashioned idea of a team's pecking order and is not convinced that just showing up at Golden State should lift Durant to leading man status.

"That's not his team. That's (Stephen Curry), (Klay Thompson) and Draymond Green's team," Payton told Reuters.

"He's supposed to follow suit. I don't like when players (take a step back for a new player).

"It's your team. Let that man come in there and be a part of the team."

Durant, the 2014 NBA most valuable player, sent shockwaves through the league in July when he left the Oklahoma City Thunder for the already-powerful Warriors.

More than a decade ago, Payton formed his own super team when he joined Shaquille O'Neal, Kobe Bryant and Karl Malone with the Los Angeles Lakers in 2003.

The star-studded group, while not short of talent, famously fell short in the NBA Finals amid locker room dysfunction and Bryant's legal proceedings after being charged with sexual assault.

Payton notes differences between his teaming with the Lakers and Durant latching on to the Warriors at the peak of his career.

"(Malone and I) weren't in our prime (when we signed)," said Payton, who inked with Los Angeles just before his 35th birthday.

"In my prime I never would've done it.
Ever. Never in my prime would I go to a team with Jordan, (Malone), (John Stockton). None of them."

Like many retired greats, the notion of joining forces with a rival is offensive to Payton's competitive sensibilities.