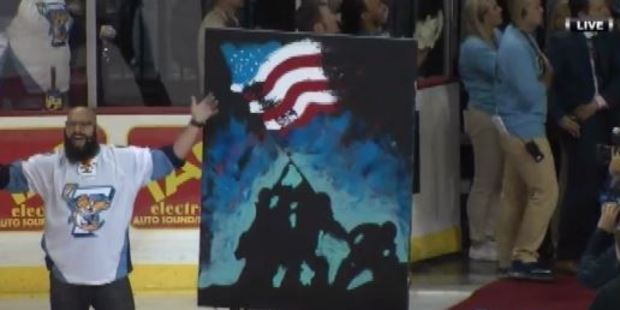 Meet Joe Everson.
He can sing, but he can also paint too. In fact, he can do both at the same time.
This guy just sang the national anthem at the Walleye game...this is awesome...watch til the end! pic.twitter.com/6JCSR7F8ba

— Jordan Strack (@JordanStrack) October 22, 2016
Before the Toledo Walleyes ice hockey team was set to play the Brampton Beast, Everson did his usual pre-game national anthem.
Except this time, he did it while painting the historic photograph 'Raising the Flag on Iwo Jima'.
He painted the whole thing upside down before flipping it over on the final note to reveal his masterpiece.
Hard to see Stan Walker topping this one.