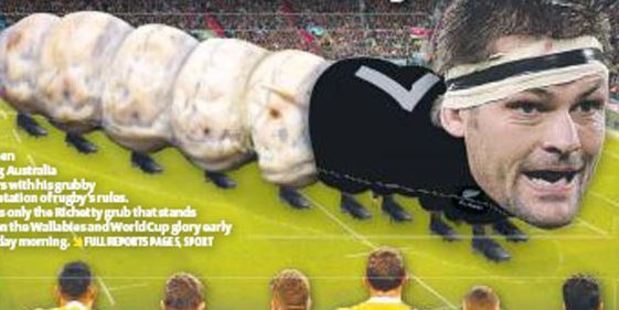 How they forget!
Beaten Aussie coach Michael Cheika and captain Steve Moore lashed out at media generally - and the Herald in particular - over a cartoon on the front page of yesterday's sports section.
Cheika was portrayed as a clown by (Australian-born) cartoonist Rod Emmerson alongside the headline, Send in the Clowns.
Moore said it was "disrespectful" and Cheika referred to the image when asked for his thoughts on the All Blacks' record-breaking 18th win tonight.
"I don't think they want our comment," he told media afterwards. "They dressed up as clowns today [in the paper]."
Yet it was less than a year ago that Sydney's Daily Telegraph depicted arguably the greatest ever All Black - Richie McCaw - as a wichetty grub on its front page.
On October 27, less than a week before the 2015 Rugby World Cup final, the Telegraph photoshopped McCaw's head onto an image of a grub alongside the headline 'Richetty grub stands in our Wallabies way'. The Telegraph cheekily continued: "He's been bugging Australia for years with his grubby interpretation of rugby's rules."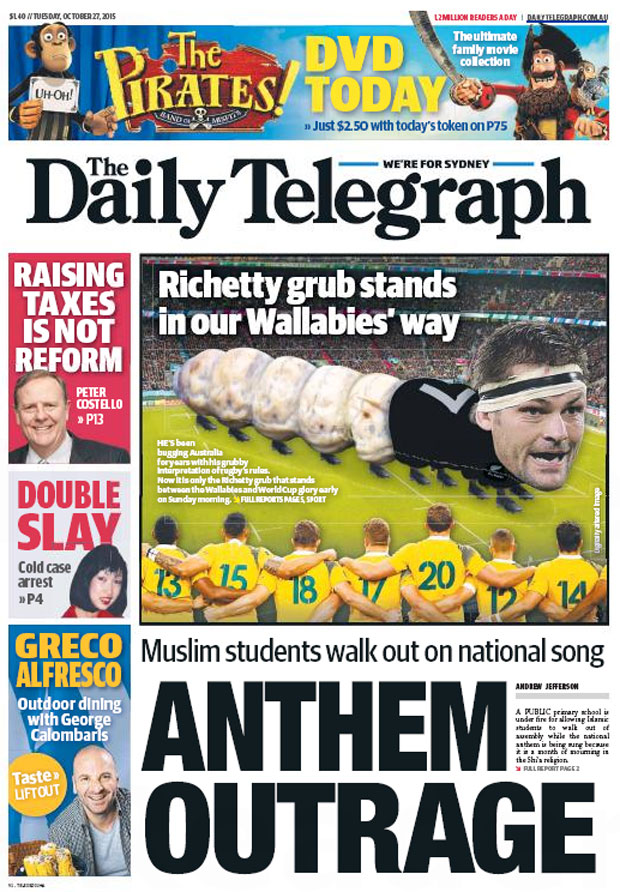 The Telegraph's build-up to the big match didn't just focus on the All Blacks.
On the day of the final, October 31, the paper ran a piece headlined 'The Ghoullabies'. It featured a photo of several Wallabies with horror style masks Photoshopped onto their faces. The piece was about the All Blacks problems playing on Halloween.
There were no reports of Cheika's reaction to either of those treatments.