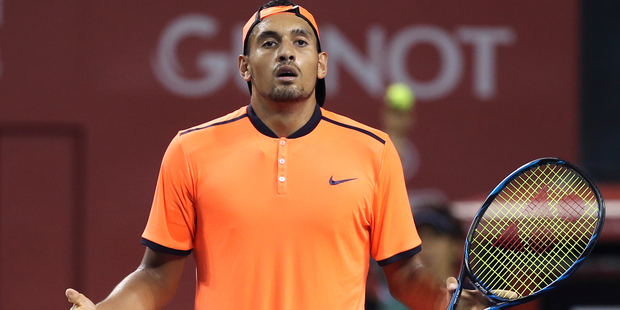 Wayward tennis star Nick Kyrgios' season is over after the Australian received a ban and $32,000 fine following his poor behaviour during the Shanghai Masters.
Kyrgios received a ban of up to eight weeks by the ATP - reduced to three weeks if he met certain conditions laid down by the sport's governing body including seeing a sport's psychologist.
The world No 14 had a meltdown at the recently completed tournament in China, and had already been fined $22,000 for lack of best effort, verbal abuse of a spectator and unsportsmanlike conduct.
Please see my website for my statement on the ATP's decision -https://t.co/JP9ODpxWRs

— Nicholas Kyrgios (@NickKyrgios) October 17, 2016
In a statement on his website, Kyrgios apologised and said his body gave out "physically and mentally" in Shanghai.
"The season has been a long one as I battled several injuries and other challenges towards the end of the summer. The Asian circuit was particularly tough after the long week and win in Tokyo and with the travel throughout the continent, my body finally just gave out in Shanghai both physically and mentally.
"This is no excuse, and I know very well that I need to apologise to the fans - in Shanghai and in other parts of the world - as well as the tournament organisers in Shanghai who do an amazing job," the statement said.
"I regret that my year is ending this way and that I will not have a chance to continue chasing the ATP Finals. This was an important goal for me.
"I do understand and respect the decision by the ATP and I will use this time off to improve on and off the court. I am truly sorry and look forward to returning in 2017."