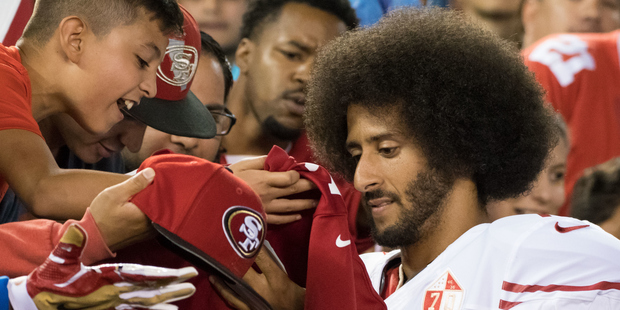 Colin Kaepernick's first start of the season came against a team featuring a Donald Trump-supporting head coach in a Rust Belt city that looked at the kneeling quarterback as sitting prey - literally.
Buffalo's tailgate scene on Sunday before the Bills' matchup against the 49ers was a ghastly one, filled with both disdain and fury for the quarterback who has been protesting the national anthem.
One salesman offered shirts featuring Kaepernick on a "Wanted" poster - with a target trained upon him.
These are for sale in the #Bills lot.
2 for $5. pic.twitter.com/NLTC2C9DeZ

— Duffy on WCMF (@DuffyOnWCMF) October 16, 2016
Also for sale in the #Bills parking lot: pic.twitter.com/AozEhrVJiV

— Duffy on WCMF (@DuffyOnWCMF) October 16, 2016
Other fans crafted a Kaepernick dummy doll, which they took turns tackling. According to The MMQB, one fan screamed, "Tackle the Muslim," before a woman took a run at the effigy.
Bills fans scream "tackle the Muslim", then a young lady obliges. pic.twitter.com/A1eKcyWT87

— Robert Klemko (@RobertKlemko) October 16, 2016
Many Bills fans are mocking Colin Kaepernick, including a fan shouting 'Tackle the Muslim' before a dummy is tackled https://t.co/qohpCalFG4 pic.twitter.com/2C9U1Bbjkm

— Sports Illustrated (@SInow) October 16, 2016
Kaepernick - the face of the expanding movement that is intended to shine a spotlight on police brutality against minorities - had been benched all season, but at 1-4, Chip Kelly turned to the QB who led San Francisco to the Super Bowl following the 2012 season. When he actually took the field, he was lustily booed. One fan screamed, "Your parents don't even like you" - a possible reference to his birth mother disagreeing with his stance.
"Your parents didn't even like you..."

- A Buffalo Bills fan#49ers #Kaepernick pic.twitter.com/BwvrHMdZlQ

— Unstripped Voice (@UnstrippedVoice) October 16, 2016
Fans then chanted "USA! USA" before the national anthem was played, for which Kaepernick again took a knee.
Kaepernick greeted by chants of 'USA, USA...' #Bills #49ers https://t.co/N96TwCZE5Y

— Matt Sabuda (@MattSabuda) October 16, 2016
When the dust settled the Bills moved on with a 45-16 win and Kaepernick's protest remaining as complex an issue as ever.
Seeing a lot of this lately, opposing players seeking out @Kaepernick7 and holding him, for a long time. @TyrodTaylor pic.twitter.com/YjdVaPB6lP

— Bud Geracie (@WakeOfWeek) October 16, 2016