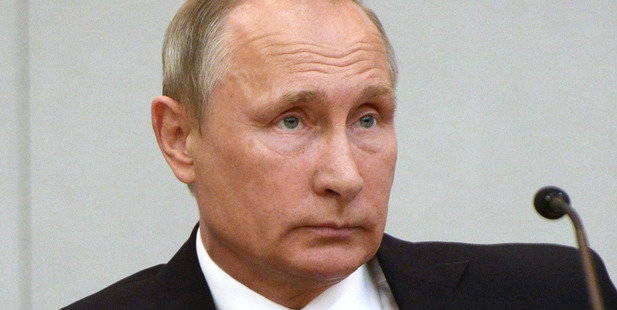 Russian President Vladimir Putin claimed today that therapeutic use exemptions for banned substances give an unfair advantage, and suggested athletes who use them should be excluded from major competitions.
TUEs allow athletes with medical conditions to take medications which would usually be banned. Their use has been under scrutiny since a hacking group known as Fancy Bears released confidential World Anti-Doping Agency documents listing medical information for many athletes.
"We need to understand what to do about (TUEs), otherwise we could soon face all records and victories going only to people who are ill with, let's say, chronic illnesses," Putin said, speaking at a sports forum in Russia.
Putin suggested putting restrictions on athletes with TUEs.
"Maybe they can be put in a special category, or their achievements, points, seconds and honors can be considered in a special way," he said.
At a later meeting with sports officials, Putin said all TUEs should be made public, a move which could face significant resistance from athletes, as well as possible legal obstacles related to the confidentiality of medical records.
"A person should decide, does he want people to know and does he want to do sport," Putin said.
If an athlete doesn't want their medical status made public, "then they shouldn't be competing in high-level sport."
Putin did not address WADA's allegation that the documents were released by hackers linked to Russia. International Olympic Committee president Thomas Bach said last month that he would ask "the Russian authorities" for help to stop to the hacking.
The Fancy Bears group began posting medical records of Olympians online last month, with U.S. and British athletes making up a large proportion of those targeted. Only selected records have been released. It is not clear how many have been held back and for which reasons.
Many of the athletes named in the files have said their medicines are necessary for their health, and do not provide an advantage, while others have pointed to TUEs issued as a result of a medical emergencies such as a sudden collapse or anaphylactic shock. A substantial minority of the TUEs which were leaked date back several years and concern substances which were closely regulated at the time but which are no longer considered potentially performance-enhancing if not abused.
Tour de France winner Bradley Wiggins' use of a TUE for three injections of an anti-inflammatory drug has prompted scrutiny in Britain, though he denies gaining an advantage.
Only one Russian, boxer Misha Aloyan, is among the dozens of athletes whose information has been leaked. However, many more Russian athletes are believed to have used TUEs.
Putin said last month that "we don't support what the hackers have been doing, but what they have done can't fail to attract public attention internationally."
The leaks began a month after the Olympics in Rio de Janeiro, from which many Russian athletes were banned following WADA investigations into state-sponsored doping. The entire weightlifting team was excluded, while only one track and field athlete was allowed to compete.