Will Davison has edged Kiwi Shane Van Gisbergen to win the Bathurst 1000 by half a car length as the Red Bull Racing driver tried to find a way past in the last couple of laps.
A late three-car crash involving Jamie Whincup, Scott McLaughlin and Garth Tander has and a handful of safety car interventions threw the race wide open as strategies were thrown out the window seemingly every couple of laps.
Van Gisbergen, who maintains his championship lead, was hurt badly by having to stack behind teammate Jamie Whincup in the pits. The gap is out to 139 points over Whincup as the series moves to the Gold Coast in a fortnight - the final endurance event on the calendar.
"What an awesome race," Van Gisbergen said afterwards. "I definitely had a go there at the end.
"It was a good haul of points for us."
Davison, who replaced Van Gisbergen at the small budget Tekno Autosport team, claims his second Bathurst title alongside Jonathan Webb.
"I'm speechless," Davison said to fiance and Supercars television commentator Riana Crehan. "That was so stressful. I knew if I lifted to save fuel he would have got me. It coughed at the last corner"
And at the end of all of that, it's @will_davison who celebrates in @virginaustralia Victory Lane.

2016 #Bathurst1000 WINNER! #VASC pic.twitter.com/vzzry3HXsF

— Supercars (@supercars) October 9, 2016
Kiwi Fabian Coulthard finished sixth in the DJR Team Penske Ford while Chris Pither and Richie Stanaway came home in 12th and McLaughlin managed to get his Volvo back out to finish 15th.
With a handful of laps remaining the race was thrown into chaos as Red Bull Holden driver Whincup dive bombed McLaughlin at the end of Conrod Straight, firing the Volvo off the circuit. Whincup slowed to allow Mclaughlin to rejoin in front and avoid conceding a penalty but in doing so held up Garth Tander's Holden. As McLaughlin rejoined the circuit all three cars touched, sending the Kiwi and Tander into the wall and ending their races.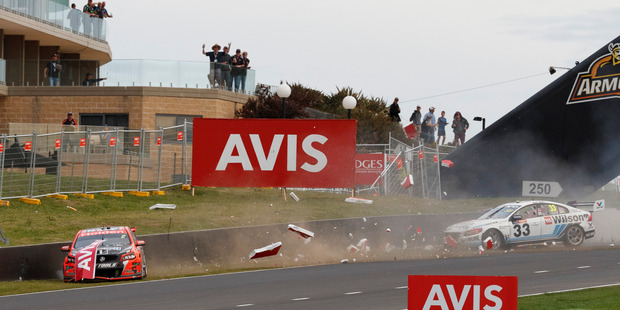 Whincup was handed a 15 second time penalty to end any hopes of him winning. He finished 11th.
It took over half the race for the first safety car to come out at Bathurst but was deployed on lap 93 when Andrew Jones suffered a heavy crash at the top of the Mountain.
Jones walked from the crash but the impact caused severe damage to the Team BOC Holden.
Whincup and co-driver Paul Dumbrell had in excess of a 30 second lead at the time.
The safety car made a number of appearances in the second half of the race to keep changing the scenarios every few minutes.
Reigning series champ Mark Winterbottom got stuck in a sand trap, ending his race, which prompted a safety car just outside the fuel window to get home.
The third car in the Triple Eight Racing stable of Craig Lowndes and Steven Richards suffered a freak gear shift problem that saw the Team Vortex Holden drop half a dozen laps and fall out of contention in the first quarter of the race.
The Ford of Chaz Mostert and Steve Owen had been as high as second but lost 30 seconds when the brake pressure didn't come up after a pad change. The car hasn't been able to use 100% throttle either which has seen them fall right back.
The Freightliner Holden of Tim Slade and Ash Walsh fought their way up to second and were putting in some impressive laps when they had a drama with their brakes in pitlane and an oil fire saw them lose time and fall back down the order.
Lee Holdsworth's Holden was forced out of the race with an engine issue on the opening lap while Kiwi Chris van der Drift's Erebus Holden has also dropped back after mechanical problems.
Final placings
1. Will Davison/Jonathan Webb
2. Shane Van Gisbergen/Alex Premat
3. Nick Percat/Cameron McConville
4. Cameron Waters/Jack LeBrocq
5. Scott Pye/Tony D'Alberto
6. Fabian Coulthard/Luke Youlden
11. Jamie Whincup/Paul Dumbrell
12. Chris Pither/Richie Stanaway
15. Scott McLaughlin/David Wall
17. Chris van der Drift/Shae Davies
24. Andre Heimgartner/Aaren Russell