After New Zealand crushed South Africa by a margin of 42 points this morning, we looked at some of the All Blacks' biggest results against top tier rugby nations.
England
20th June 1998, Dunedin
Final score: 64-22
Points differential: 42
The All Blacks put on a spectacular display in Dunedin for a record setting performance against England.
John Hart's men ran in nine tries, with three players scoring twice. Electrifying fullback Christian Cullen bagged a double, as did wing Jeff Wilson and captain Taine Randell in a Roses rout.
South Africa
8th October 2016, Durban
Final score: 57-15
Points differential: 42
The All Blacks set two records this morning, as they equalled a record 17th straight test victory and defeated South Africa by their largest margin.
The boot of Morne Steyn kept things close for the first half, but the All Blacks traditionally finished in style as they scored seven tries in the second stanza.
Superb defence saw the All Blacks miss a grand total of two tackles as they held South Africa tryless in Durban.
Australia
6th July 1996, Wellington
Final score: 43-6
Points differential: 37
New Zealand's biggest victory against the Wallabies came in the first ever Tri Nations test.
The match set the tone for what would be a dominating series that ended with the All Blacks winning the inaugural Tri Nations series.
A wet and windy Athletic Park played host as the All Blacks scored six tries and held Australia to just six points through two penalties.
This game broke a 24-year-old record for New Zealand's largest margin of victory against Australia, previously set in 1972 after a 38-3 dismantling in Auckland.
Wales
21st June 2003, Hamilton
Final score: 55-3
Points differential: 52
Dan Carter's test debut could not have gone any smoother.
Making an 80-minute appearance at second five, Carter scored a try, set up another and kicked six of his eight conversion attempts to kickstart his storied career in the black jersey.
Ireland
23rd June 2012, Hamilton
Final score: 60-0
Points differential: 60
The first shutout on this list, the outstanding All Blacks held Ireland scoreless for the first time in 88 years.
A nine-try effort from the All Blacks, including three in the first 22 minutes, embarrassed Ireland. Sam Cane scored twice in his first test start, and a Sonny Bill Williams double within the space of eight minutes early in the first half set the tone.
The crushing result came just one week after a late Dan Carter drop goal denied Ireland their first victory over the All Blacks.
Argentina
21st June 1997, Wellington
Final score: 93-8
Points differential: 85
The All Blacks came close to putting three figures on the board against Argentina in 1997.
A 21-year-old Carlos Spencer scored two tries on his test debut and slotted ten conversions in a dream performance.
Every All Blacks run seemed to carve off huge metres as outside backs Christian Cullen, Tana Umaga and Jeff Wilson shredded the Argentinian defence.
A highlight was an open play cross-field kick from No 8 Zinzan Brooke to put his brother Robin in for an unmarked try.
France
9th June 2007, Wellington
Final score: 61-10
Points differential: 51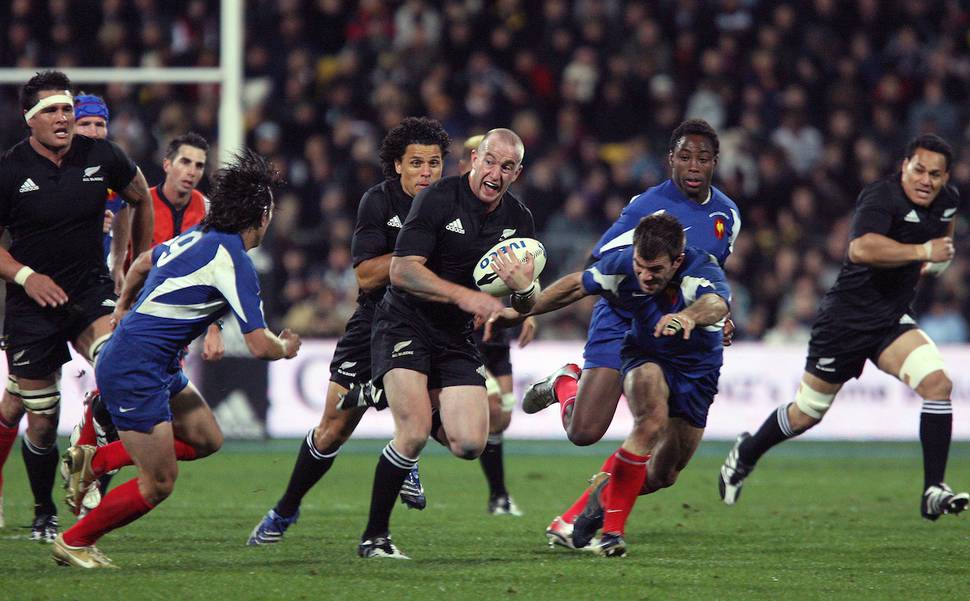 New Zealand ran in nine tries against France in 2007, just months before their shock World Cup quarter final defeat.
The All Blacks led 30-3 at the half thanks to tries from Anton Oliver, Byron Kelleher and a brace from Joe Rokocoko.
Second half scores from Leon MacDonald, Isaia Toeava, Jerry Collins, Keven Mealamu and Nick Evans helped run up the score in a record setting performance.
Not only was this New Zealand's biggest win over les Bleus, the victory set a world record of 23 straight home wins.
Scotland
24th June 2000, Dunedin
Final score: 69-20
Points differential: 49
Anton Oliver scored a pair tries, one of which was a storming run from the 22m line.
A Jonah Lomu hat trick and a Ron Cribb try on debut added to the massive scoreline.
Christian Cullen featured on the scoresheet once again as New Zealand cruised to a nice 69 points.
The All Blacks would ease off in their next meeting, winning by 34 the following week at Eden Park.
Fiji
10th June 2005, North Shore
Final score: 91-0
Points differential: 91
The biggest margin on this list, New Zealand thrashed Fiji on the North Shore in 2005.
One-cap wonder Sosene Anesi made his lone All Blacks appearance, while Fijian-born Chiefs teammate Sitiveni Sivivatu ran in four tries on his debut.
Leading 50-0 at the half, the All Blacks reaching 100 seemed plausible.
Unfortunately they could only manage 91, scoring a total of 15 tries but converting just eight.