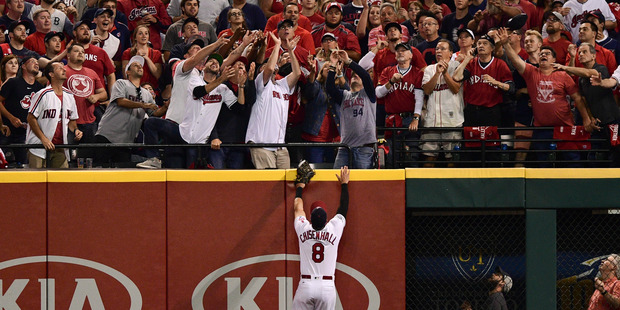 The Cleveland Indians belted three home runs in the span of four batters in the third inning and got 4-1/3 innings of quality work from their bullpen to beat the Boston Red Sox 5-4 in Game 1 of the Major League Baseball American League Division Series on Friday.
Roberto Perez, Jason Kipnis and Francisco Lindor all homered in a three-run third inning off Boston starter Rick Porcello, turning a 2-1 Boston lead into a 4-2 Cleveland advantage.
The Cleveland bullpen was able to preserve the lead. Andrew Miller (1-0) relieved Trevor Bauer in the fifth inning and calmed things down for the Indians.
Miller, acquired from the New York Yankees at the trade deadline, pitched two scoreless innings, allowing one hit and one walk while striking out four.
Bryan Shaw gave up a home run to Brock Holt leading off the eighth inning, cutting Cleveland's lead to 5-4.
After Shaw retired Mookie Betts for the first out, and with David Ortiz walking to the plate, Indians manager Terry Francona called for closer Cody Allen.
Ortiz lined a double to centre field and was replaced by pinch runner Marco Hernandez, who went to third on a groundout by Hanley Ramirez.
Allen struck out Xander Bogaerts to end the inning and while he allowed a single in the ninth, got three more strikeouts to end the game.
In Arlington, Texas, Marco Estrada took a shutout into the ninth inning and Jose Bautista hit a long, punctuating three-run homer as the Toronto Blue Jays opened their AL Division Series re-match with a 10-1 romp over the Texas Rangers.
Bautista, who had the emphatic bat flip after his tie-breaking homer in the ALDS clincher last October against the Rangers and got punched the last time the Blue Jays played in Texas in May, drove in four runs.
He had an RBI single in Toronto's five-run third off All-Star left-hander Cole Hamels.
Bautista added a 425-foot blast in the ninth inning and the Blue Jays slugger seemed to deliberately drop the bat softly near home plate after his second homer of this post-season.
Troy Tulowitzki hit a bases-loaded triple for the Blue Jays.
Toronto has won four straight overall, including an 11-inning, 5-2 victory over Baltimore in the AL wild-card game Tuesday night.
- AP