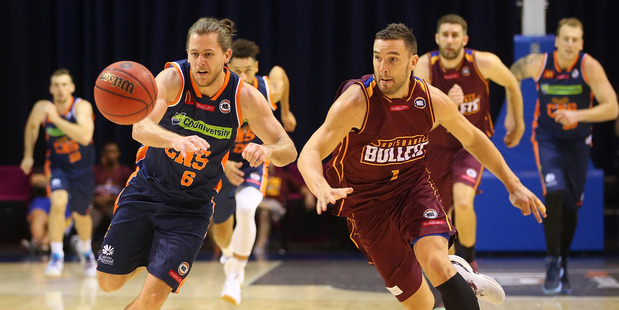 Perth Wildcats
Last season: Champions. Won grand final 2-1 over NZ (2nd during regular season with a 18-10 record)
Squad: Jaron Johnson, Greg Hire, Jarrod Kenny, Matt Knight, Dexter Kernich-Drew, Angus Brandt, Casey Prather, Jesse Wagstaff, Shawn Redhage, Damian Martin
Key gains: Jaron Johnson, Jameel McKay, Angus Brandt, Dexter Kernich-Drew
Key departures: Nate Jawai, Jermaine Beal, Tom Jervis
The Wildcats set a world record last season when they qualified for a 30th straight finals appearance. But the strength of their rivals has risen dramatically this season, meaning the Wildcats won't find it easy to keep that record going. Perth did enough in the big moments last season to win their seventh title. The defensive nous of captain Damian Martin was crucial throughout the season - and especially in the grand final win over NZ - while import Casey Prather and departed centre Nate Jawai also played key roles. With American Jameel McKay replacing Jawai at centre, expect the Wildcats to play a more up-tempo style this season.
Predicted finish: 3rd

Adelaide 36ers
Last season: 5th (14-14)
Gains: Terrance Ferguson, Majok Deng, Anthony Drmic, Eric Jacobsen, Adam Doyle
Losses: Adam Gibson, Anthony Petrie, Ebi Ere, Lucas Walker
Squad: Eric Jacobson, Terrance Ferguson, Adam Doyle, Majok Deng, Anthony Drmic, Mitch Creek, Daniel Johnson, Brendan Teys, Matt Hodgson, Nathan Sobey
Coach Joey Wright is banking heavily on talent over experience. High school revelation Terrance Ferguson, Sudanese star Majok Deng and US college graduate Eric Jacobsen are new to professional basketball and it will be interesting to see how they fare.
Import Jerome Randle became a fan favourite amongst 36ers fans last season and he finished the campaign as the NBL's leading scorer after averaging 23 points per game. But Randle's poor pre-season form has been a concern, with Wright even giving the 175cm dynamo a public rocket. Adelaide loom as one of the most unpredictable teams.
Predicted finish: 6th

Brisbane Bullets
Last season: First season back in the competition since folding in 2008
Squad: Jermaine Beal, Adam Gibson, Torrey Craig (import), Mitchell Young, Shaun Bruce, Tom Jervis, Daniel Kickert, Matt Kenyon, Anthony Petrie, Reuben Te Rangi, Cameron Bairstow
Welcome back Brisbane, oh how we've missed you. It's been eight years since the Bullets last appeared in the competition, and they are every chance to come back with a bang. With master coach Andrej Lemanis at the helm and the likes of Jermaine Beal, Adam Gibson, Cameron Bairstow and Daniel Kickert in the side, the Bullets are a good chance to reach the finals. Beal will have a point to prove after being let go by the Wildcats. Bairstow will be aiming to reignite his NBA career, but a popped shoulder leaves him in doubt for the start of the season.
Predicted finish: 4th

Cairns Taipans
Last season: 6th (12-16)
Squad: Matt Burston, Fuquan Edwin, Travis Trice, Nathan Jawai, Cameron Gliddon (capt), Mark Worthington, Stephen Weigh, Alex Loughton, Jarrad Weeks, Mitch McCarron
Key gains: Nate Jawai, Travis Trice, Mitch McCarron, Nnanna Egwu, Fuquan Edwin, Jarrad Weeks
Key losses:Markel Starks, Torrey Craig, Matt Burston, Cam Tragardh, Shaun Bruce
Cairns have brought back a blast from the past in the form of 209cm big man Nate Jawai. The 143kg hulk played a key role in the Wildcats' title campaign last season. His ability to dominate under the ring and dish out assists could prove crucial for Cairns. Much will also depend on new import point guard Travis Trice, who has big wraps after starring for Michigan State. The Taipans are the early wooden spoon favourites. If they can snare a finals berth, it would be a massive achievement.
Predicted finish: 8th

Illawarra Hawks
Last season: Lost semi-final 2-1 to Perth (finished regular season in 3rd spot with 17-11 record)
Gains: Rotnei Clarke, Marvelle Harris, Mitch Norton, Nick Kay, Michael Holyfield
Losses: Kevin Lisch, Kirk Penney, Jarrad Weeks, Larry Davidson
Squad: Rotnei Clarke, Nick Kay, Mitch Norton, Marvelle Harris, Michael Holyfield, AJ Ogivly, Oscar Forman, Rhys Martin, Tim Coenraad, Cody Ellis
Ouch. That's how the Hawks would have been feeling after losing star duo Kevin Lisch and Kirk Penney during the off-season. The pair averaged a combined 40 points per game for the Hawks last season, and their absence will be tough to fill. The additions of last season's rookie of the year Nick Kay and import Marvelle Harris are handy, but they aren't proven stars. However, they do have one proven performer - coach Rob Beveridge. The former Wildcats mentor faces a big challenge getting the Hawks into consecutive finals. He lacks elite shooters at his disposal, so he may have to opt for a more physical approach to get the job done. The Hawks will rely heavily on star centre AJ Ogilvy.
Predicted finish: 5th

Melbourne United
Last season: Lost semi-final 2-0 to NZ (finished regular season in 1st spot with 18-10 record)
Squad: Cedric Jackson, David Andersen, Devin Williams, Ramone Moore, Tai Wesley, Chris Goulding, David Barlow, Majok Majok, Todd Blanchfield, Nate Tomlinson
Gains: Cedric Jackson, David Andersen, Devin Williams, Ramone Moore, Tai Wesley
Losses: Hakim Warrick, Daniel Kickert, Stephen Holt, Brad Hill, Igor Hadziomerovic, Chris Patton
United appeared to be the team to beat last season after racing out to a 9-0 start. But from there they got the wobbles. Although they still managed to finish on top of the ladder, they were bundled out in the semi-finals by NZ in straight sets. When United were on song from long range, they were near unbeatable. The problem was they lacked a plan 'B' when they went cold from three-point land. The addition of Cedrick Jackson and David Andersen adds massive firepower to an already strong squad. Melbourne will start as title favourites and it will take a special team to beat them for the Championship.
Predicted finish: 1st

New Zealand Breakers
Last season: Lost grand final 2-1 to Perth (finished 4th during the regular season with a 16-12 record)
Squad: Ben Woodside, Rob Loe, Akil Mitchell, Finn Delany, Shea Ili, Kirk Penney, Corey Webster, Tom Abercrombie, Mika Vukona
Gains: Kirk Penney, Rob Loe, Ben Woodside, Akil Mitchell, Shea Ili, Finn Delany, Jordan Ngatai, Izzy Tueta (injury replacement)
Losses: Cedric Jackson, Charles Jackson, Tai Wesley, Everard Bartlett, Reuben Te Rangi, Shane McDonald
NZ were just one win away from winning last season's Championship, but they face a massive challenge to even reach the finals this time around. With star import Cedric Jackson and coach Dean Vickerman both gone, it will be the start of a new era at the Breakers. New coach Paul Henare has been able to lure club legend Kirk Penney back to the Breakers. Penney turns 36 during the season. But his series of star displays for the Hawks last season showed his ageing body can still produce the goods. NZ will rely heavily on stalwarts Mika Vukona and Tom Abercrombie to keep the team in finals contention. Henare is now the coach of both the Breakers and the Tall Blacks, so it's little surprise there are nine Kiwis in the Breakers' side.
Predicted finish: 7th

Sydney Kings
Last season: 8th (6-22)
Squad: Greg Whittington, Michael Bryson, Aleks Maric, Kevin Lisch, Brad Newley, Julian Khazzouh, Tom Garlepp, Jason Cadee, Jeromie Hill
Gains: Kevin Lisch, Brad Newley, Aleks Maric, Michael Bryson, Greg Whittington
Losses: Josh Childress, Angus Brandt, Marcus Thornton, Rhys Carter, Jordan Vandenberg
The Kings were a rabble last season, but they are every chance to go from wooden spooners to champions within the space of a year. The arrivals of star trio Kevin Lisch, Brad Newley and Aleks Maric has given the Kings a much-needed boost of quality, while there are big wraps on import Greg Whittington, who is still dreaming of making it onto an NBA roster. New coach Andrew Gaze has a superb roster at his disposal. But whether he can make them gel or not remains the biggest question mark.
Predicted finish: 2nd