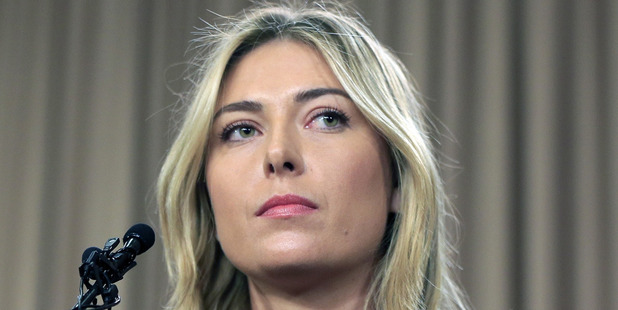 - Ban reduced from 24 to 15 months
- Five-time Grand Slam champion can return on April 26, 2017
- Free to play French Open in 2017, a grand slam she has won twice
- Will miss one more grand slam, next year's Australian Open
Maria Sharapova will be eligible to return to competitive tennis in April after her two-year doping ban was reduced to 15 months this morning by a sports court that found the Russian star did not bear "significant fault" for her positive drug test.
The Court of Arbitration for Sport cut nine months off the suspension imposed on Sharapova, who tested positive for the banned heart medication meldonium at the Australian Open in January.
Sharapova, a five-time Grand Slam champion and former No. 1-ranked player, appealed to CAS in June seeking to overturn or reduce the two-year penalty imposed by the International Tennis Federation.
In a 28-page ruling , the CAS panel found that Sharapova bore "some degree of fault" but "less than significant fault" in the case that has sidelined one of the world's most prominent and wealthy female athletes.
"The panel has determined, under the totality of the circumstances, that a sanction of 15 months is appropriate here given her degree of fault," the three-man arbitration body ruled.
While Sharapova did commit a doping violation, "under no circumstances ... can the player be considered to be an 'intentional doper,'" the panel said.
Sharapova's ban, which took effect on Jan. 26, was originally due to run until Jan. 25, 2018. Now she can return on April 26, 2017, a month ahead of the French Open, a Grand Slam tournament she has won twice.
"I've gone from one of the toughest days of my career last March when I learned about my suspension to now, one of my happiest days, as I found out I can return to tennis in April," Sharapova said in a statement.
"In so many ways, I feel like something I love was taken away from me and it will feel really good to have it back," she added. "Tennis is my passion and I have missed it. I am counting the days until I can return to the court."
The doping suspension kept the 29-year-old Sharapova out of this year's French Open, Wimbledon and U.S. Open, as well as the Olympics in Rio de Janeiro. She will also miss the 2017 Australian Open in January.
Steve Simon, CEO of the WTA tour, welcomed Tuesday's ruling.
"We are pleased that the process is now at completion and can look forward to seeing Maria back on court in 2017," he said.
Sharapova acknowledged taking meldonium before each match at last year's Australian Open, where she lost in the quarterfinals to Serena Williams.
But Sharapova said she was not aware that meldonium, also known as mildronate, had been included on the World Anti-Doping Agency's list of banned substances from Jan. 1, 2016.
The ITF said she also tested positive for meldonium in an out-of-competition control in Moscow on Feb. 2.
Sharapova's lawyer, John Haggerty, called Tuesday's ruling a "stunning repudiation" of the ITF, which he said failed to properly notify players of the meldonium ban.
"The panel has determined it does not agree with many of the conclusions of the ITF," Haggerty said in a conference call. "As we demonstrated before CAS, not only did the tennis anti-doping authorities fail to properly warn Maria, if you compare what the ITF did with how other federations warned athletes of the rule change, it's a night and day difference."
Sharapova said she was first prescribed the Latvian-made drug, typically used for heart conditions, by her family doctor for various medical issues in 2006. She said she took the drug for regular bouts of the flu, possible onset of diabetes and a magnesium deficiency.
An independent ITF panel had found that Sharapova did not intend to cheat but bore "sole responsibility" and "very significant fault" for the positive test. The ITF panel also said the case "inevitably led to the conclusion" that she took the substance "for the purpose of enhancing her performance."
Meldonium increases blood flow, which improves exercise capacity by carrying more oxygen to the muscles.
More than 100 athletes, including many Russians and other eastern Europeans, tested positive for meldonium early in the year. Some escaped with no sanctions because they argued successfully that they stopped taking the drug before Jan. 1 and that traces had lingered in their system. Sharapova, however, acknowledged that she used meldonium after Jan. 1.
A hearing on Sharapova's appeal was held in New York on Sept. 7-8. The player and her legal team argued that she bore no significant fault or negligence and her ban should be reduced to "time served," or about eight months.
"I have learned from this, and I hope the ITF has as well," Sharapova said. "I have taken responsibility from the very beginning for not knowing that the over-the-counter supplement I had been taking for the last 10 years was no longer allowed."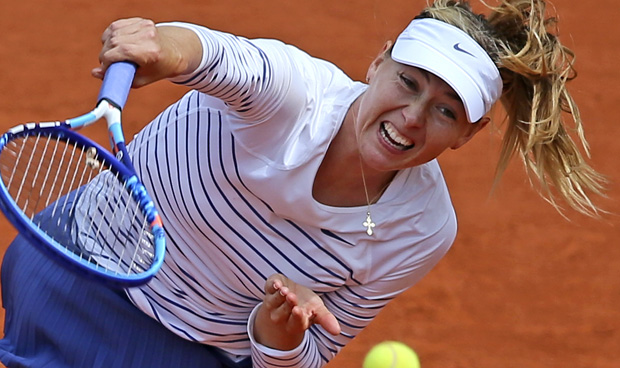 Sharapova she can return on April 26, 2017. Photo / AP
Q&A: Meldonium, the drug taken by Maria Sharapova
Q: What is meldonium?
A A Latvian-made drug available over the counter in Russia and other Eastern European and ex-Soviet countries, often without a prescription. The drug's manufacturer, Grindeks, says it is mostly aimed at people with heart conditions, though it can also be used for "physical and psycho-emotional overload" in otherwise healthy people. Meldonium's inventor, chemist Ivars Kalvins, has said it was given to Soviet soldiers fighting in Afghanistan to boost their stamina. However, Grindeks and Kalvins argue it shouldn't be banned in sports, with the manufacturer saying that it "cannot improve athletic performance, but it can stop tissue damage" during intense exercise. Sharapova said she took meldonium for a decade for reasons including a magnesium deficiency, family history of diabetes and dizziness. Meldonium is usually known by the brand name mildronate, though other names have been used.
Q: How was it banned?
A: The World Anti-Doping Agency said in September 2015 that meldonium would be banned as of Jan. 1, 2016, and published information on its website. A study conducted at the European Games in June 2015 and later published by the British Journal of Sports Medicine found 66 of 762 athletes taking meldonium, which the authors called "excessive and inappropriate use ... in a generally heathy athlete population." After WADA's announcement, the International Tennis Federation notified players of changes to the list of banned substances by e-mail and using a "wallet card" distributed at tournaments, though CAS ruled Tuesday that this was inadequate. Sharapova tested positive at the Australian Open in January and said she was not aware meldonium had been banned.
Q: Who else tested positive?
A: After meldonium was banned, there were more than 170 failed tests by athletes, almost all from Eastern European countries, including Olympic medalists in sports ranging from figure skating to wrestling. Heavyweight boxer Alexander Povetkin of Russia saw his world title challenge called off after a failed test for meldonium.
Q: What happened to athletes who tested positive?
A: Almost all of the cases were dropped when athletes insisted they had stopped taking meldonium in 2015, before it was banned. The usually low concentrations of the drug in their samples backed up that argument, and WADA accepted findings of "no fault or negligence" in those cases. WADA also admitted it hadn't known enough about how long it took meldonium to leave an athlete's system. Sharapova's case was not dropped because she had continued taking meldonium after it was banned and the concentration in her sample was comparatively high.
Q: What next?
A: WADA confirmed last week that meldonium remains on the banned list for 2017. WADA's grace period for athletes who tested positive for low doses expired Friday, so any amount of the drug now triggers a positive test.
- AP