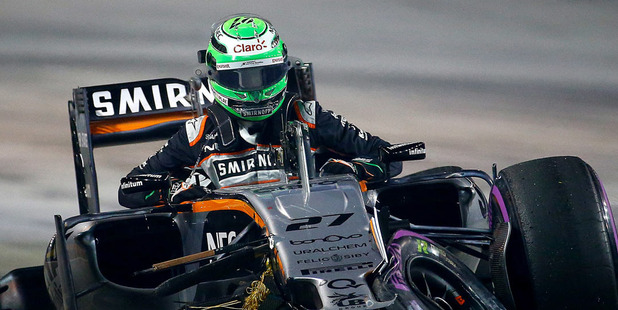 The Singapore Grand Prix provided plenty of drama overnight as first driver Nico Hulkenberg and then a safety marshal were lucky to walk away following incidents early in the race.
The safety car came out almost immediately in the race due to a spectacular accident in the middle of the pack just after the start.
Force India's Hulkenberg tried to get through a narrowing gap between the two Toro Rossos but clipped a tire on Carlos Sainz Jr.'s car and speared heavily into the pitlane wall.
After a couple of laps behind the safety car, the racing restarted at very short notice, almost catching out a safety marshall, who was picking up debris on the track when the field rounded the turn into the start-finish straight, and he was forced to sprint to safety.
No words.

Unbelievable #SingaporeGP pic.twitter.com/fxJgZ1MmxI

— Mattzel89 (@Mattzel89) September 18, 2016
There has to be fallout with that near-miss with the marshall? F1 already has safety issues without causing themselves more problems #bbcf1

— Paul Thompson (@PaulThompson89) September 18, 2016
An #F1 Marshall on a suicide mission in Singapore pic.twitter.com/O8Gp6bNMvs

— IG: ConceptSixty5 (@Sentletse) September 18, 2016
Marshall is my #F1DriverOfTheDay. Vote for yours. #SingaporeGP https://t.co/FAgJvwRZu4 pic.twitter.com/ecfyYYKk9v

— CokeFIN #CiaoJules (@CokeFIN) September 18, 2016
Once racing got back underway, Nico Rosberg hung on for the narrowest Formula One victory for six years, celebrating his 200th career start in perfect style as he reclaimed the championship lead from his Mercedes teammate Lewis Hamilton.
Rosberg held on to beat a fast-finishing Daniel Ricciardo of Red Bull by just 0.488 of a second at the Marina Bay street circuit while Hamilton took third place, narrowly in front of Ferrari's Kimi Raikkonen.