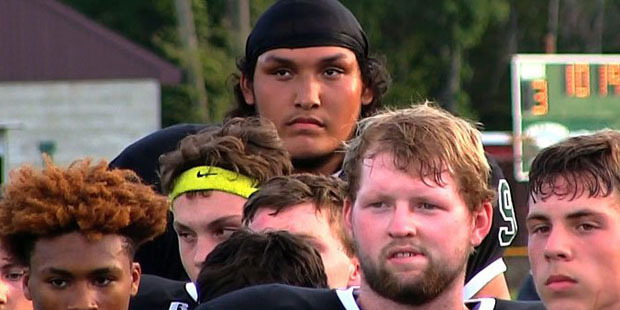 Brave Williams is a big, big boy.
The high school senior stands 2.15m above the ground and weighs 181kg. That makes him taller and heavier than any player in the NFL at the moment.
He's not in the pros yet, but with a frame like his, there's every chance he could end up there one day. And if he does, the Lake Shore nose tackle will do what he's always done - stand out above the pack.
Lynden Ostrander profiled the teenager for MaxPreps - a website devoted to American high school sports - and uncovered some pretty remarkable information about the boy who still plays basketball in the winter.
"I've been bigger than everybody my entire life," Williams told Ostrander. "In kindergarten, I was already 5-3 (1.6m) and towered over everyone."
That's not too surprising seeing as his dad is also over two metres tall.
Williams reportedly only started playing football three years ago, but he's clearly a fast learner, representing the varsity team for the previous two seasons.
Lunch time read: Get to know 7-foot-1, 400-pound Brave Williams

VIDEO: https://t.co/5k0cCAE4Q8 pic.twitter.com/U0OdkvAzoY

— MaxPreps (@MaxPreps) September 16, 2016
He said he'd "like to lose some fat and gain more muscle". Well, judging by his capabilities in the gym, he shouldn't have too much trouble achieving that goal.
According to MaxPreps, he can perform three squats of more than 450kg, and can do 20 reps of 90kg when it comes to bench presses.
That strength isn't always such a good thing around the house, though. His mother Angela said he has a tendency to break doors and chairs by accident.
"He's that guy you can depend on," Angela said. "He commands your respect. Though he's the sweetest guy ever, people still know better than to mess with him."
Williams isn't sure what the future has in store for him. He's not even sure football will be part of that future. He told MaxPreps he'd love to get a college scholarship for either gridiron or basketball.
You can imagine him being just as damaging on the basketball court as he is on the football field.
At 7-foot-1 & 400lbs, high school football player Brave Williams (Senca) is larger than life https://t.co/mZO9Vl9ALv pic.twitter.com/bNLQsj2ICR

— NDNSPORTS.COM (@ndnsports) September 16, 2016
We're not 100 per cent certain what he was like in primary school, but we imagine it would be pretty similar to nine-year-old Aussie rugby league player Meaalofa Te'o. Earlier in the week, video footage of Te'o's destructive work on the footy field went viral and he was noticed around the world.
Pure. Carnage. #Rugby @USASevensRugby pic.twitter.com/eMUF0aHC3x

— USA Sevens Rugby (@USASevensRugby) September 13, 2016