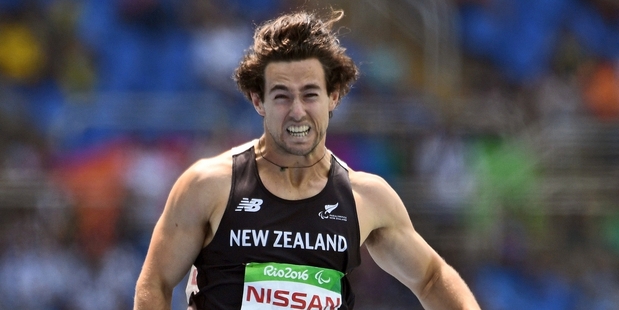 The Paralympic Games have hit the big time. There's serious money for a few through performance and sponsorships, and wily ways to get an edge.
There are also heated debates about the intricate classification system, levels of impairment and whether athletes are placed in the wrong classes.
If the classification is too high, an athlete may not be able to compete fairly; too low and the athlete could gain an unfair advantage.
And then, of course, there's doping.
"When something is competitive, there are revenues that are linked with that," said Peter Van de Vliet, the medical and scientific director of the International Paralympic Committee.
"We have athletes with professional managers. We have athletes who make their living out of the sport. Going home with a medal can make a whole lot of difference in certain countries, in certain cultures."
About 4350 athletes competed in the Rio Paralympics, each with unique differences that have to be classified. Lines have to be drawn to group similar impairments, or impairments that yield similar results.
That's when the disputes begin.
Tanni Grey-Thompson, an 11-time British Paralympic gold medallist, has been critical of incorrect classification with athletes trying to get an advantage by misrepresenting an impairment, which she has said amounts to "cheating".
An example is American swimmer Victoria Arlen, who won a gold medal and three silvers in the 2012 Paralympic Games in London. But the IPC disqualified her a year later, ruling her paralysis from the waist down was not permanent. Earlier this year she began to walk again without assistance.
There are other ways of getting an edge:
Boosting: This is a method for inducing autonomic dysreflexia, which boosts blood pressure and blood flow - and hence performance. It is often used by athletes with upper spinal cord injuries. The IPC have outlawed the practice and monitor systolic blood pressure over 160.
Doping: Four athletes tested positive during the London Paralympics four years ago. The IPC said about two dozen more were detected in the days leading up to the Games and banned. The practice occurs mostly in powerlifting. The IPC are now storing samples for re-testing, following the lead of the IOC, and did about 1500 blood and urine tests in Rio.
Intellectual disability: In the most famous case, the 2000 Spanish basketball team were forced to return a gold medal when it was discovered team members did not have intellectual disabilities.
There are 10 impairment groups - physical, visual and intellectual. But the 22 Paralympic sports adjust the groups to suit their sport, swelling the classifications to hundreds. Athletes complain they're not always fair.
Take the case of American Allison Jones, an eight-time Paralympic medallist in cycling and skiing. She was born without a right femur (leg), but competes in cycling against women with two legs but who have neuromuscular diseases.
"It's hard for a lot of my family and friends to watch me compete against girls with two legs," she said. "They don't get it. They don't see how it's fair. But the other girls have neuromuscular issues - lower body, upper body - that puts them in my classification."
She agrees there must be classes, but says the logic or science behind it can be disputed.
"At the end of the day, you're stuck with whatever they classify you," she said. "So at that point you either step up, or bow out."
The Paralympics are more than a benign version of the Olympics. In fact, a few performances are better than the Olympics.
The top four finishers in last weekend's men's 1500m in the T13 class for visually impaired all had better times than Rio Olympic champion Matthew Centrowitz.
Abdellatif Baka of Algeria won in 3m 48.28s. Centrowitz ran 3m 50.00s in a slow, tactical race.
German amputee long jumper Marcus Rehm, who jumps with a carbon fibre blade, holds the Paralympic world record of 8.40m. This is better than the winning Olympic jump of American Jeff Henderson, at 8.38m.
Van de Vliet, the IPC medical director, said the largest classification disputes involve athletes with "loss of function" - spinal cord injuries, spina bifida and cerebral palsy - rather than physical impairment like missing limbs or physical deformities.
No matter where a classification line is drawn, athletes nearest the top border are likely to benefit most. Teams are even known to recruit athletes in that range, and often younger athletes.
"If you walk in and you're missing your leg, you're missing your leg," Van de Vliet said. "People tend to question this way less than one who comes in and has a problem with co-ordination impairment, like cerebral palsy."
Television is starting to drive the coverage and revenue.
British broadcaster Channel 4 telecast non-stop daily live coverage. Dan Brooke, the head of marketing, declined to say how much the network paid for the rights, but called it "a successful commercial operation. We make money out of it".
Brooke expected ratings to fall in Rio compared to the 2012 London Games, but he got a surprise. "We've been amazed to find the audiences for young people are up very slightly from London," he said.
Gareth A Davies, who covers the sport for Britain's Daily Telegraph and Channel 4, said big money was changing the landscape, with countries like China, Britain and Ukraine pouring more resources into training.
Brazilian swimmer Daniel Dias has 11 sponsorships, and that could increase after adding to the 10 golds he won in the last two Paralympics. Bladerunner Marlou van Rhijn has become a marketing giant in the Netherlands, the way Oscar Pistorius was in South Africa, and New Zealand's Liam Malone has potential to do the same.
"The big sports manufacturers want to associate themselves with these stories," Davies said. "They are about the triumph of the human spirit. So there is marketability here." Davies said the classification system was "basically fair".
"You'll never get away from these competitive athletes trying to get an advantage to be at the top of their classification, or get into the classification below themselves," he said. "There are advantages that able-bodied athletes have, too, in certain events, and there are advantages that disabled people have in certain events."
- AP