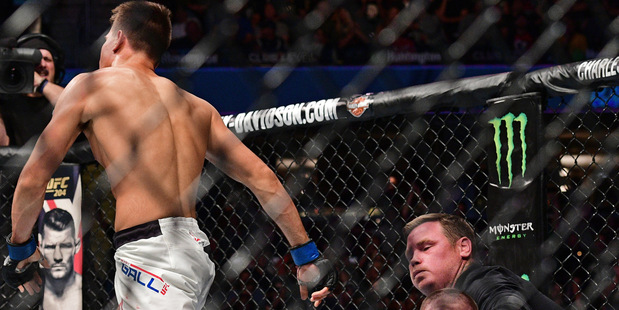 CM Punk could have used a folding chair or a tag-team partner.
Out of pro wrestling's scripted ring, his first trip into the octagon didn't last long.
Punk, who was one of WWE's biggest stars when he left it two years ago to try his hand in ultimate fighting, tapped out just 2m 14s into the first round after he was pummelled and choked by Mickey Gall on the UFC 203 undercard in Cleveland, Ohio, yesterday.
The 38-year-old Punk was on his back less than 10 seconds into the fight. Pinned up against the octagon's cage, he was unable to get out from under Gall, who landed numerous blows to both sides of Punk's head.
Looking confident and mugging for the sellout crowd, Punk, whose debut had been delayed by injuries, entered Quicken Loans Arena to Cult of Personality by Living Colour, the song he used for years on the WWE circuit.
Gall, an up-and-coming welterweight from New Jersey, had called out the famous wrestler and pledged to "destroy" him.
Gall made good on his promise.
"Yeah, you know in life, you go big or you go home," Punk said afterwards. "I just like to take challenges. It was a hell of a climb, I didn't get to the summit [last night] but it doesn't mean I'm going to give up, it doesn't mean I'm going anywhere, it doesn't mean I'm going to stop."
Gall said Punk rushing at him in the opening seconds set the tone.
"He came in hot, so I took him down," Gall said. "I wasn't surprised he got through those early chokes because I was only half committing, almost playing a game with it in a way."
"Obviously, Mickey's a hell of a fighter," Punk said. "I will be back, believe it or not. This was the most fun I've had in my life, second best night of my life after marrying my wife. I know there's a lot of doubters but listen, life's about falling down and getting back up. Doesn't matter how many times you get knocked down, get up."
Heavyweight champion Stipe Miocic kept his title with another Cleveland comeback. Floored by a punch early on, Miocic recovered and knocked out Alistair Overeem at 4m 27s of the first round.
- AP