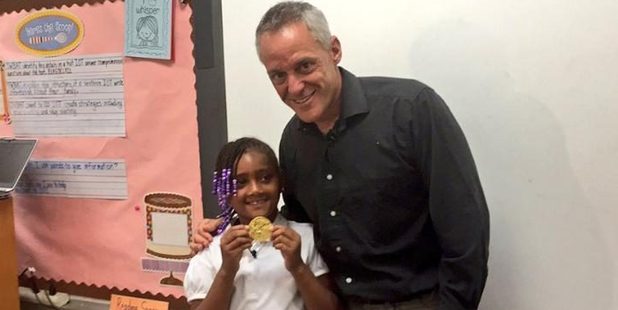 An Olympic champion is thanking a seven-year-old Atlanta girl who found his gold medal in a pile of rubbish weeks after it was stolen.
Joe Jacobi won the medal in men's canoe double slalom at the 1992 Olympics in Barcelona. Jacobi says it was stolen when somebody broke into his car in June.
Weeks later, Chloe Smith was walking with her father when she spotted the gold medal discarded in a pile of garbage. Chloe returned the medal to Jacobi, who had posted about the theft on social media.
Olympic Medalist @JoeJacobi visited @Woodson_Park 1st grader Chloe Smith 2 thank her 4 finding his lost! @ATLsuper pic.twitter.com/uJbtryl03p

— KimberlyWillisGreen (@kimberlywgreen) August 29, 2016
The former Olympian then promised to visit Chloe's school and let her classmates know about her good deed.
"(Chloe asked), 'Mom when is Joe coming to school?' She was very excited. She couldn't wait," Chloe's mother, Charlmonique Smith, told local news.
Jacobi spoke on Monday to Chloe's first-grade class at Woodson Park Academy, WSB-TV reports.
The Olympian brought his recovered gold medal with him and spoke highly of Chloe's character.
"It's the idea of choosing to do the right thing, and so Chloe, I thank you for good character and doing the right thing. And to her parents and her family, I thank you guys," Jacobi said.
Jacobi said everyone can learn from Chloe.
"I think sometimes we don't give a seven-year-old child enough credit for the choices they can make and the influence and power of one choice on an entire community," he told WSB-TV.
"We don't have to sit around and just talk about the sometimes the poor choices and poor behaviours that athletes choose.
"Sometimes we have incredible role models to look at right inside an elementary school."