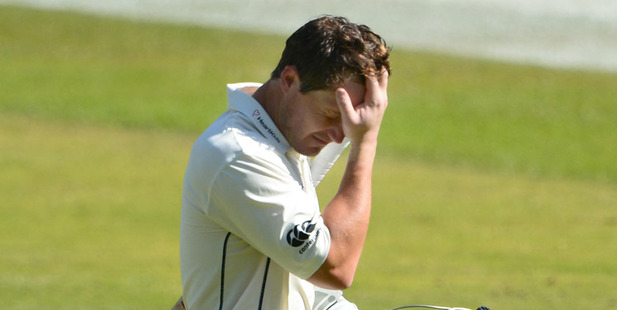 South Africa 481-8 declared and 132-7
New Zealand 214 and 195
South Africa won by 204 runs.
A Dale Steyn bowling masterclass and another paralysed New Zealand top order batting display helped South Africa complete a 204-run victory on the fourth day of the second test at Centurion.

The result gave South Africa their 11th triumph in 14 series between the countries since 1932. New Zealand have never won.
"It was a shame to play the one test and for that to be a decider," New Zealand captain Kane Williamson lamented after the Durban match was abandoned due to a rain-soaked outfield.

"I think we almost played the perfect test," South African captain Faf du Plessis responded. "If I could write a script to have it my way that's how it would've gone. It's been tough for us the last while [dropping to seventh in the world] so this is a great result.

"We've definitely found our passion again."

South Africa (fifth) and New Zealand (seventh) have swapped places on the test rankings.

The visitors faced defeat by attrition, intimidation and embarrassment chasing 400 to win.

Only four times in 2219 tests had teams chased more to win.
To compound matters, the highest fourth innings winning score at the venue was 251 for eight by England in January 2000.

Those circumstances proved hypothetical when New Zealand slipped to seven for four. Thanks to some lower order spine, they were dismissed for 195.

Steyn delivered his 26th test five-wicket bag, taking five for 33 from 16.2 overs and advancing to 11th on bowling's all-time list of top wicket-takers. He moves to 416, overtaking Wasim Akram's 414 across the day. Steyn sits five behind South African record-holder Shaun Pollock.
Before the series he spoke of being "a fisherman" when it came to wicket-taking:

"I love testing guys' patience," he said. "I will wait there all day and hopefully find the edge or knock his poles over."

So it proved.

If there was a positive for New Zealand it was the application of Henry Nicholls who, in his sixth test, made 76 from 140 balls as he attempts to establish himself as the No.5 following Brendon McCullum's retirement.

"To come up against an attack like that on a tough surface was a great experience for him and he showed a lot of character," Williamson said.

Nicholls received patches of support from B-J Watling (32), Mitchell Santner (16) and Doug Bracewell (30).

In the opening session, the hosts whittled away the visitors' esprit de corps by batting to drinks and declaring at 132 for seven.

South African No.6 Temba Bavuma eked out an unbeaten 40 from 113 balls. His compact technique brought patient reward.

Tim Southee's skill in getting a ball to seam back into Vern Philander's off stump for 14 was the sole New Zealand highlight of the session.

With the wicket getting baked in the winter sun, the bounce varying by the session and New Zealand batsmen imploding, any survival prospects proved minimal. In fact, they all but evaporated in the first over as the Steyn juggernaut rolled in.

The onus went on someone, anyone, to match Williamson's defensive batting pluck from the first innings. It wouldn't be Tom Latham. He was bowled by Steyn attempting to shoulder arms to the first ball of New Zealand's second innings. The ball hit his gloves and ricocheted onto the stumps. Nor would it be Martin Guptill. He also succumbed for a golden duck, fending to first slip, to complete a mortifying first over.

The openers contributed 23 runs from six innings in this series, reinforcing the chasm between plundering Zimbabwean medium pacers and wilting against Steyn, one of history's finest pace bowlers.

Taylor fell prey to a zooter lbw for a duck, thus maintaining the scorecard's binary code. It took Williamson, who had the middle finger of his left hand jammed against the bat handle by Philander, to break the strain of noughts by edging behind for five.

He said the injured finger was stiff but nothing worse at this stage, and he was "just trying to get it wrapped it around the bat again".

New Zealand's next opponents are India. The first of a three-test series starts in Kanpur on September 22.