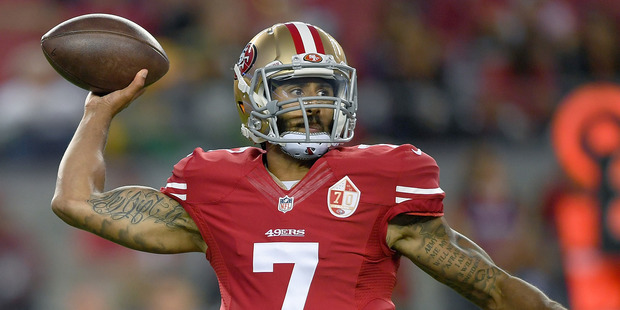 San Francisco 49ers quarterback Colin Kaepernick divided fans when he refused to stand during his national anthem before a preseason game against the Green Bay Packers on Friday night.
The 28-year-old NFL star later explained that his decision to stay seated while his teammates stood for the 'Star-Spangled Banner' was to protest oppression of black and other minority communities in the United States.
"I am not going to stand up to show pride in a flag for a country that oppresses black people and people of colour," Kaepernick told NFL Media in a post-game interview.
"To me, this is bigger than football and it would be selfish on my part to look the other way.
"There are bodies in the street and people getting paid leave and getting away with murder," he added.
Kaepernick's protest was denounced as "unpatriotic" and "unsportsmanlike" by some, including members of the football community. The New York Giants' Justin Pugh tweeted his reaction on Saturday.
I will be STANDING during the National Anthem tonight. Thank you to ALL (Gender,Race,Religion)that put your lives on the line for that flag

— Justin Pugh (@JustinPugh) August 27, 2016
To clarify I'm not saying I know what it's like to walk in someone's shoes, I don't. Just stating what the National Anthem means to me

— Justin Pugh (@JustinPugh) August 27, 2016
But Kaepernick added that he wasn't concerned about any backlash to his decision.
"This is not something that I am going to run by anybody," he said. "I am not looking for approval. I have to stand up for people that are oppressed.
"If they take football away, my endorsements from me, I know that I stood up for what is right."
The 49ers issued a statement after the exhibition game, which saw San Francisco lose to Green Bay, 21-10.
"The national anthem is and always will be a special part of the pre-game ceremony. It is an opportunity to honour our country and reflect on the great liberties we are afforded as its citizens," the club said.
"In respecting such American principles as freedom of religion and freedom of expression, we recognise the right of an individual to choose and participate, or not, in our celebration of the national anthem."
There's nothing in NFL policy mandating that players must stand for the anthem, but that didn't stop many fans from weighing in on the player's protest on social media.
Idiot @Kaepernick7 earns nearly $20 million a year. He's so oppressed.

— Dan Gainor (@dangainor) August 27, 2016
Much respect for @Kaepernick7 @carmeloanthony and the athletes that won't be silenced for the sake of endorsements. We need you.

— Bas (@FiendBassy) August 27, 2016
Person of color #ColinKaepernick signed a 6 year $114,000,000 NFL contract yet protests America's oppression of people of color.

— Carolina Girl (@carolinagirl63) August 27, 2016
.@Kaepernick7 is just a man doing what he THINKS is right. We, of course, have right to disagree. But we shouldn't want to see him destroyed

— Jason Howerton (@jason_howerton) August 27, 2016
@Kaepernick7 the flag that you disrespect, is the same flag that gives you the RIGHT to sit if you choose to. Be proactive, but with Respect

— Brad Ball (@Bullet546) August 27, 2016