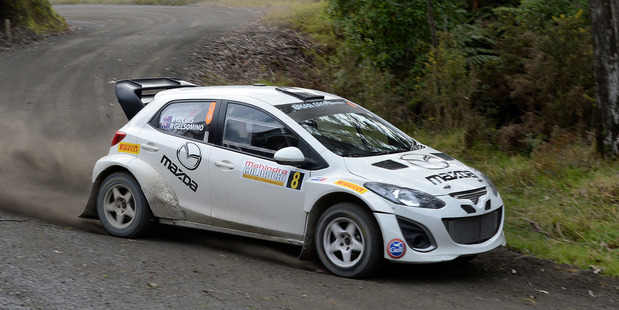 Australian driver Brendan Reeves has taken a dominant victory at the final round of the Brian Green Property Group New Zealand Rally Championship, the Mahindra Goldrush Rally Coromandel, leading the field home by more than a minute.

Reeves and co-driving sister Rhianon Gelsomino won the opening stage and never looked back in their Mazda 2, taking the first NZRC round win for the marque in 23 years. They led home another brother sister combination in Matt and Nicole Summerfield, while Dylan Turner and Rob Scott completed the podium, only two and a half seconds behind the Summerfields. The top five was completed by Glenn Inkster/Spencer Winn and Andrew Hawkeswood/Jeff Cress.
Newly crowned National Rally Champion David Holder who wrapped the title up at the previous round finished sixth overall. The battle for the remaining championship podium spots went down to the last stages of the event with the bonus points offered on the power stage proving crucial. Hawkeswood won the stage ahead of Sloan Cox, Turner, Inkster and Reeves. That allowed Hawkeswood and Cress to claim third for the overall championship standings, while Cox and Malcolm Read climbed to second and also won the Junior championship.


Outgoing national champion Ben Hunt was one of the few retirements, when an electrical issue caused the Subaru WRX STI to lose turbo boost. Others to strike issues included Grant Blackberry, who went off the road, Marcus van Klink with electrical problems, while Tyler Radovan, Jono Shapley, Ray Wilson and Rob Connell also suffered electrical problems.

The class battles saw Anthony Jones win the open two-wheel drive class ahead of Dave Strong and Dylan Thomson while Tony Gosling took out the BNT Historics ahead of John Silcock and Jeff Judd. Kingsley Jones took out the Gull Rally Challenge four-wheel drive class ahead of Lee Robson and Jono Walker, while Jeff Torkington won the two-wheel drive section.

The FIA two-wheel drive title went the way of Max Bayley and Lisa Hudson, while Dave Strong and Bruce McKenzie took the open two-wheel drive championship ahead of Anthony Jones/Noel Moloney and Dylan Thomson/Amy Hudson. Marcus van Klink and Dave Neill had wrapped up the historic category prior to the event, with John Silcock claiming second place and Jeff Judd third. Judd's co-driver Grant Marra was second in the co-driver standings, with Blair Read third.

The Gull Rally Challenge four-wheel drive category was wrapped up by Kingsley and Waverley Jones ahead of Lee Robson/Glenn Goldring and Warwick Redfern/Ron Bartels, while Jeff Torkington and Rodney James took the Gull Rally Challenge two-wheel drive class ahead of Greg Murphy and Mark Leonard. The rookie championship was taken out by Carl Davies, while Mitsubishi claimed the Manufacturers title.

2016 Brian Green Property Group NZ Rally Championship final standings
David Holder 111
Sloan Cox 74
Andrew Hawkeswood 73
Graham Featherstone 71
Dylan Turner 70