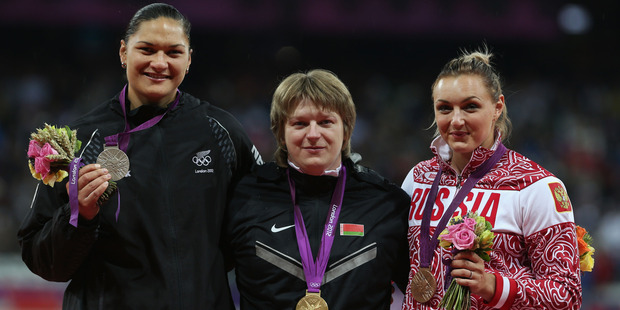 A second drug scandal has emerged from the 2012 Olympic shot put event in which Val Adams won gold.
Adams was elevated from silver after Nadzeya Ostapchuk of Belarus was stripped of the gold medal the day after the London Games because of a failed drug test.
Russian Evgenia Kolodko was bumped up to silver, with Gong Lijiao of China moved from fourth to bronze.
Now Kolodko has been disqualified and stripped of silver after her stored doping samples came back positive for two banned substances, the International Olympic Committee (IOC) said.
It's the third time in a week that Russia has been stripped of an Olympic athletics medal after a positive result in a reanalysis of samples from previous Games.
The IOC stores samples for 10 years so they can be reanalysed when improved methods become available.
Kolodko tested positive for the steroid turinabol and ipamorelin, which is classified as a peptide hormone on the World Anti-Doping Agency's list of banned substances.
Gong Lijiao could move to silver in the 2012 shot put, with countrywoman Li Ling elevated to the bronze medal slot.
- AP