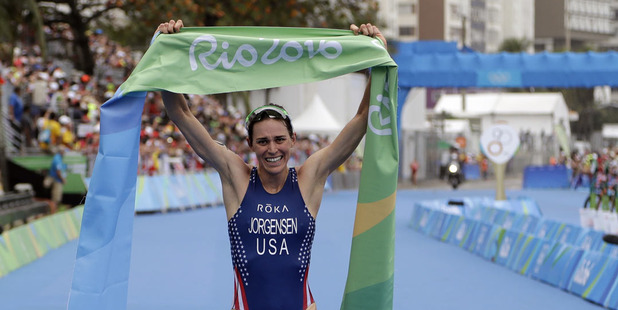 New Zealand's Andrea Hewitt and Nicky Samuels have finished outside of the medals in the women's triathlon after sitting in the lead bunch off the bike leg.
Hewitt finished in seventh and Samuels in 13th as Gwen Jorgensen gave the US its first Olympic triathlon gold medal. The heavy race favourite crushed the field in the run to finish in a time of 1 hour, 56 minutes and 16 seconds.
Nicola Spirig of Switzerland, who won gold in London four years ago when Jorgensen was bamboozled by a flat tire, crossed 40 seconds later for the silver medal. Vicky Holland outsprinted British teammate Non Stanford to win the bronze.
Jorgensen was drafting with Spirig for the entire run after they dismounted their bikes together but after smiling at Spirig with about two kilometers left, Jorgensen made her breakaway and wouldn't be challenged.
As she approached the blue ribbon, the former All-American track athlete and swimmer at the University of Wisconsin turned and Spirig wasn't anywhere in site.
Jorgensen flipped up her goggles, acknowledged the cheers with a wide smile and grabbed the tape above her head after crossing the finish.
Then, she broke down in tears.The only other American to win an Olympic triathlon medal was Susan Williams, the silver medalist at the 2004 Athens Games.