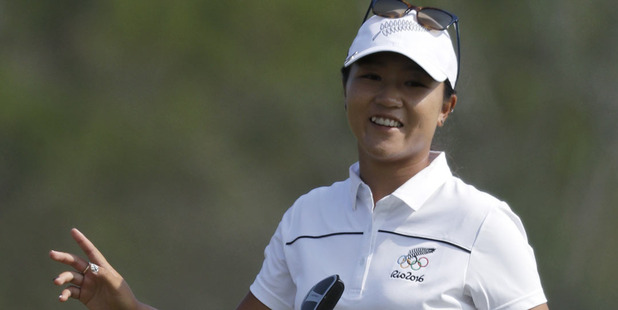 It took eight holes - and a hole-in-one - for Lydia Ko to get right back in the mix at Olympic Golf Course.
Ko made her ace on the par-3 eighth hole, and along with four birdies in the third round, the world No. 1 suddenly was up with the leaders.
Today was moving day, tomorrow is medal day and Ko is a decent shot to add another gold to the Olympic tally sitting two shots behind leader Inbee Park (11-under).
Ko finished with a six-under 65 to move to nine-under for the tournament in a share of second with American Gerina Piller.
It was the second time this week that Ko holed out from long range. The Kiwi used a 9-iron from 135 yards on the 15th hole to make eagle in the opening round. And it was the second hole-in-one of the day for the women. Lin Xiyu of China made her ace on the eighth hole, which is playing 140 yards.
"It's my first hole-in-one in practice and at tournaments," Ko told Radio Sport's Brenton Vannisselroy.
"To have my first hole-in-one at the Olympics is really cool. I don't think I'll ever be able to forget it, especially with it being a pretty tough hole. I'll take that one."
It may be an good omen for Ko. Last week the men's champion Justin Rose also had a hole-in-one.
Ko said it was the little things that turned her tournament around on the front nine today.
"I shot one over on the front nine the past two days so shooting seven shots lower is not a bad thing.
"I had my first hole-in-one but before that I got myself into good momentum holing a really long birdie putt at six. I put myself in positions and opportunities and those putts I did have opportunities I grabbed them. I think that was the difference. At the end of the day it's not the big things that make you from two-under to six-under it's those small putts that lip-out instead of lipping in."
Tomorrow the plan doesn't really differ for the two-time major winner as a gold medal sits on the line.
"I've just got to stick to my own gameplan. I think that's really important. Sometimes you can get carried away about what somebody else is doing. I'm just going to focus solely on me. Try and play some good golf, just stay patient but at the same time have fun. I'm having this opportunity at the Olympics to maybe stand on the podium and that itself I'm really grateful for that. Either way I'm just going to enjoy it. The other girls are playing some great golf and I hopefully I'll be able to do the same."