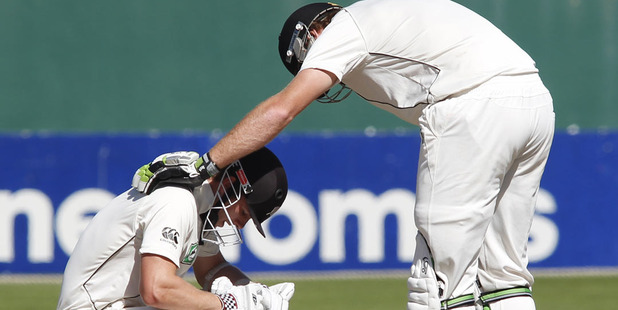 As one of the straightest talkers in cricket, South Africa's Dale Steyn is not about to hide his likely demotion among the game's most fearsome fast bowlers.
Having been kept out of international cricket for much of the last year by groin and shoulder injuries, the 33-year-old will make a welcome return to the side in the first test against New Zealand in Durban on Friday night NZT, but acknowledged he will have to turn down the speed dial.
"If I must be realistic about it, running in and bowling 145 kph all day when you haven't done it for a long time is going to be really tough," he said this week.
"Objective number one is to get through 18 overs a day, maybe dropping in pace, but being as effective as possible. 140 is going to be enough."
The news will come as a relief for New Zealand's batsmen, who have lost 49 wickets to Steyn in seven tests in South Africa over the past decade.
Steyn confessed that as he contends with the lingering effects of his injuries and an aging body, he won't even be the fastest bowler in his team, let alone the world.
But he's OK with that.
"There's going to be a day when I can rev it up to 145 and maybe even 150, but we've got somebody like KG (Kagiso Rabada) who can do that now."
Steyn's return, along with fellow seamer Vernon Philander, is the biggest boost for South Africa as it begins a revival in test cricket.
The pair were largely absent during the past year as the Proteas lost 3-0 away to India and 2-1 at home to England, dropping from No. 1 to No. 7 in the test rankings.
With Rabada announcing himself on the test stage in their absence, South Africa's pace stocks look strong again even without the injured Morne Morkel.
"From a seam bowling point of view, they are strong, they have got a lot of variety," New Zealand coach Mike Hesson said.
"They have some bounce bowlers, some good swing bowlers, some seam bowlers so that will provide its own challenges."
On paper, a two-match series against New Zealand looks like a soft start to South Africa's rebuilding process, given that it has lost just one of 13 home tests to the Black Caps since readmission to world cricket in 1991 - even with captain AB de Villiers ruled out by a range of niggling injuries.
But New Zealand has built a formidable outfit over the past three years, rising to fifth in the rankings, and boasts a threatening pace attack in its own right with Trent Boult, Tim Southee and Neil Wagner.
The trio warmed up for the South Africa tour by twice bowling New Zealand to innings victories over Zimbabwe on hopelessly flat pitches in Bulawayo.
Durban has never hosted a first-class game in August, making conditions something of an unknown, but Southee expects that both sets of fast bowlers will find some assistance at Kingsmead.
"There's good cloud cover and plenty of humidity in the air," he said on Wednesday. "And there's a lot more grass there than what there was in Bulawayo."
But if it turns out that the bowlers face a long, hard slog, Steyn won't mind."I love testing guys' patience if it's a waiting game," he said. "I am a fisherman. I will wait there all day and hopefully find the edge or knock his poles over."
-AP