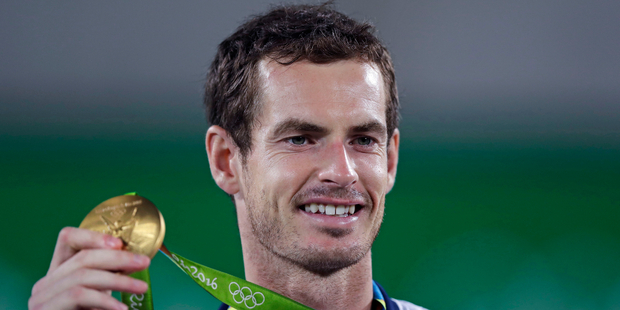 Andy Murray is making a habit of accomplishing things that hadn't been done in a while. Or ever.
Murray became the first tennis player in Olympic history with two singles gold medals, winning his second in a row by wearing down Juan Martin del Potro, of Argentina, 7-5, 4-6, 6-2, 7-5 at the Rio de Janeiro Games in a back-and-forth four-hour final yesterday.
"Anything could have happened," said Murray, who took the last four games after trailing 5-3 in the fourth set.
"Emotionally, it was tough. Physically, it was hard," he said. "So many ups and downs."
At the 2012 London Olympics, Murray won a singles gold and mixed doubles silver at the All England Club. That, of course, was also the site of his historic 2013 Wimbledon championship, ending the hosts' 77-year wait for a British man to claim the trophy.
Murray won Wimbledon again last month, raising his Grand Slam title count to three.
Yesterday, the No2-seeded Brit stopped the resurgent run of the 141st-ranked del Potro, who knocked out No1 Novak Djokovic in the first round after getting stuck in an athletes village elevator for 40 minutes earlier in the day, then beat No3 Rafael Nadal in the semifinals.
No man has defeated the top three seeds on the way to a gold, but 2009 US champion del Potro sure came close before winding up with a silver to go alongside his bronze from 2012.
Del Potro had the louder support, and one fan even yelled something as Murray was about to hit a shot while two points from victory. He put the ball in the net and glared in the direction the voice came from. Soon after, a spectator was escorted out.
Nadal, the 2008 gold medallist, lost 6-2, 6-7 (1), 6-3 earlier to Kei Nishikori, whose bronze is Japan's first Olympic tennis medal since 1920.
The final provided quite a contrast in styles: Murray's terrific returns, impenetrable defence and track-down-every-ball court coverage against the 1.98m del Potro's booming serves and furious forehands. In heavy humidity and on a slow hard court, there were plenty of prolonged points. Not all were pretty, though, as they combined for 102 unforced errors, and 85 winners.
They almost went to a fifth set, too, because del Potro served for the fourth at 5-4, but was broken there, then again in the final game.
"Against Andy," del Potro said, "you never know if you're going to win your serve."
When del Potro dumped a backhand into the net to end the match, the opponents met at the net and hugged. Afterwards, both mentioned how tired they were after playing for the fourth consecutive day.
Del Potro would have been the lowest-ranked man to be an Olympic tennis gold medallist and this would have been his first title at any tournament since January 2014. A couple of months later, he had the first of three operations on his left wrist that forced him to miss 2-years' worth of Grand Slam tournaments. His first major tournament back was in June at Wimbledon and he still is not completely able to rip two-handed backhands the way he used to, often relying on righty slices.
"He'd done amazing, really, to get back to playing and competing again at this level after all of the issues he had," Murray said.
Before beating Roger Federer in the 2012 Olympic final, Murray had never earned one of his sport's most significant titles. Since then, he's won his trio of majors and his pair of golds - and made a successful comeback from back surgery in September 2013.
"I'll try and keep going. And who knows about Tokyo?" Murray said with a laugh, referring to the host city for the 2020 Games. "If I'm still playing in four years, when I'm 33, I don't imagine I'll be playing at the same level as now."
- AP