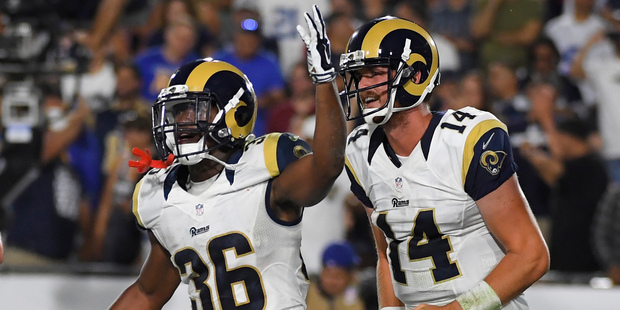 Dallas' Dez Bryant caught a 10-yard touchdown pass, but the Los Angeles Rams earned a win in their homecoming when Sean Mannion threw a 9-yard touchdown pass to Aaron Green with 1:54 remaining for a 28-24 comeback over the Dallas Cowboys at the LA Coliseum on Sunday.
Bryant had two receptions for 28 yards, including a leaping catch on the sideline against cornerback Coty Sensabaugh for 18 yards. He played one series before leaving the game.
Quarterback Tony Romo, rookie running back Ezekiel Elliott, tight end Jason Witten and left tackle Tyron Smith were held out of the game.
Rams running back Todd Gurley and defensive end Robert Quinn also did not play, as a crowd of 89,140 saw Cowboys wide receiver Lucky Whitehead score on a 101-yard kick return to welcome the NFL back to Southern California after a 22-year absence.
No. 1 overall draft pick Jared Goff struggled after replacing Case Keenum early in the second quarter, completing 4 of 9 passes for 38 yards and an interception.
After being hit by Cowboys linebacker Derek Akunne, Goff's second pass was a wobbly throw that was easily picked off by Mark Nzeocha. Goff had two other passes dropped by rookie receivers Pharoh Cooper and Michael Thomas, and the California alum was sacked once.
Keenum started and played three series, going 6 of 7 for 58 yards. Benny Cunningham scored on a 14-yard run with 1:33 left in the first quarter for the Rams' first points in the stadium where they first played in 1946 after moving from Cleveland until moving to Anaheim at the end of the 1979 season.
Mannion threw three touchdown passes in the second half to rally the Rams.
Cowboys rookie Dak Prescott started in place of Romo and made a strong case to back him up after Kellen Moore broke his ankle in practice last week. Prescott was 10 of 12 for 139 yards and two touchdowns, with both incompletions coming on drops by Geoff Swain.
The fourth-round pick out of Mississippi State looked poised behind the strong Cowboys offensive line, finding Terrance Williams for a 32-yard touchdown with a perfectly placed throw over Lamarcus Joyner.