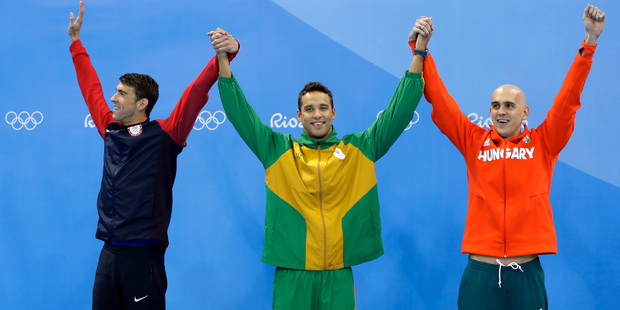 This will be a defining image of the Rio Olympics: Michael Phelps and two more of the world's greatest swimmers holding hands on one step of the podium.
Joseph Schooling of Singapore, the surprise winner of the men's 100-metre butterfly, was delighted to share the podium with silver medalists Phelps, Chad le Clos and Laszlo Cseh, three swimmers who "changed the face of our sport".
It seems almost impossible for three athletes to finish at the exact same time, but such three-way ties had happened 20 times before at the Olympics, according to sports historian Bill Mallon.
They were most common in gymnastics under the old 10-point judging system, which also produced the only four-way tie, for men's vault silver in 1984.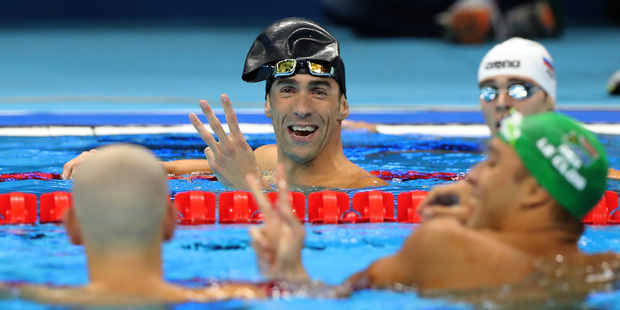 More ties came in the pole vault or high jump, with three athletes clearing the bar at the same height. That's what happened in 2012, when Canada's Derek Drouin, Britain's Robbie Grabarz and Qatar's Mutaz Essa Barshim all won high jump bronze.
You have to go back 52 years for the last Olympic race to end in a three-way dead heat for medals. Back when races were only timed to one-tenth of a second, not one-hundredth as they are in the pool, US speedskaters shared silver at the 1968 Winter Olympics.
Schooling and Phelps had met long before Rio. The latter posed for a photo with Schooling eight years ago. Phelps was already an Olympic legend and Schooling a teenaged super-fan at school in Singapore.
- AP